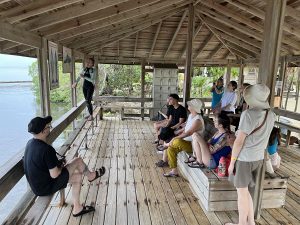 Our first full day began early! We met at the water taxi at 6:15 AM for our brief ride to Bailey's Key where we were met by nearly all the dolphins! They whistled and postured and played. It was a great first morning, despite the rain drops. We had a brief introduction to the dolphins, the Key, and the research and peppered Kathleen and Manon with LOTS of questions.
Breakfast was followed by our delayed orientation talk by Jen Keck. We learned more about AKR and Roatan and some logistics for our stay. We departed for Maya Key by shuttle bus and enjoyed a day observing rescued and rehabilitated animals, snorkeling on the reef and walking around the island as well as checking out the replica of a Mayan ruin. Our afternoon was spent in the classroom learning more about the individual dolphins at RIMS and getting more details about the data sheets for our morning observations … and asking lots more questions that spawned several tangential discussions. It was a great day!
Amalia – It was great to enjoy the sun at the beach during our off time.
Anna – I think dolphin observations were great for my first day. I loved snorkeling, it was great!
Daniel – We had a fun trip to Maya Key today!
Giulia – It was nice to get to know the dolphins – meeting them for the first time.
Liz – I saw a parrotfish!
Marriah – Today was a great introduction for the next two weeks.
Poppy – The spider monkey was cool.
Richard – I felt loved by the dolphins and it was the first time I'd experienced that feeling.
Kristin – What was so fun was when everybody had so many questions that there were tangents on tangents on tangents. And … dolphins!
Manon – First session with very active dolphins. Glad to be back.
Tomorrow will begin as usual with early AM data.
Until then,
Cheers
The York U team
(pending possible name change tomorrow)