This morning yielded the best underwater visibility yet with dolphins seemingly extra social! They also had no concept of personal space today and regularly mobbed/crowded me while I collected data! Tank, Stan, Buzz, and Rocky were all over my fins and Lenca joined in a few times while Champ simply made a few circles by us. Alita kept an eye on the younger males while Poli and Kami swam a bit with Gracie and Trixie. Trixie seems to have learned from Sandy and was playing with pufferfishes!
Some of our participants did their own meet 'n greet with the dolphins during an encounter and then Linnea swam with the dolphins. Smiles were in over-abundance at lunch.
Snorkeling and diving also brought more fish into view as the groups went to the east along the north side of Roatan. The day was very hot with little breeze … so everyone spent time in the water today!
Of course, Bill, John, Don and I all posed together in front of Bill G.'s sculpture to get a few pictures of the new DCP rash guards … not sure any of us would give up our day jobs for modeling … but it was fun to hang out in front of three dolphins! And, if you read my Instagram post this morning, you'll see the 4th rash guard color is Yellow!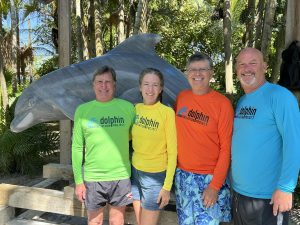 Tomorrow is our last morning for this visit for data collection. Hard to believe it will already be Friday! Until then,
Cheers
Kathleen & DCP's 2023 Ecotour Team (Scott, Irma, Kate, Bill, Linnea, Kate, Don, John, Stephanie, Shannon, Dick, Louise)