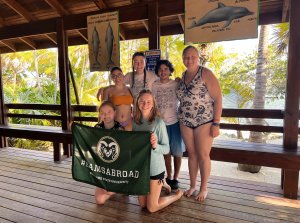 Dolphins, Dolphins, Dolphins! We all swam with dolphins today. We started, as is usual, with data collection in the morning. It was a different day with bouts of activity in between bouts of no activity. Each morning is different. The front photo is one of our pano scans that had a dolphin leap during it! And just below we show our RAMs spirit after our swim with the CSU Study Abroad flag!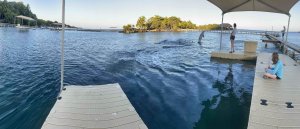 Next, we share our impressions from our swim:
Natalie – I still think the dolphins feel like wet hot dogs.
Adilia – To swim with the dolphins, you had to think like the dolphins.
Ember – I loved seeing the dolphins play underwater, which is something you can't see at the surface.
Amelia – Snorkeling with the dolphins was an amazing and unique experience. You don't realize how large the animal is until you are inches away from them.
Halle – I love Bailey!!!!!! And dolphins are so beautiful and powerful underwater!
Lauren – Swam face-to-face with Gizmo and watched her roll in the sand at the bottom. She reminds me of a puppy in saltwater.
Camille – Tête à tête.
Manon – Another interesting swim with the dolphins. Some close up with mom and calf pairs.
Shane – Damn that was a really big parrotfish, but not nearly as big as the dolphins! The animals were surprisingly quiet and did an amazing job appearing out of nowhere toward us during the swim.
We spent time this afternoon in informal discussion with Shane about our research projects and gaining a better understanding of how behavior can be used to investigate physiology.
We also watched this morning's video and practiced more on the IDs of the dolphins.
Fiesta night is tonight … a BBQ with some contests and an introduction to the Garifuna dancers and the Roatan island culture.
Until tomorrow,
WET Rams
P.S. CSU's streak is alive and well!! Ember is Limbo King and Adilia is Limbo Queen!