We woke very early to head to Dolphin Encounters (DE). It was just getting light and we had a nice morning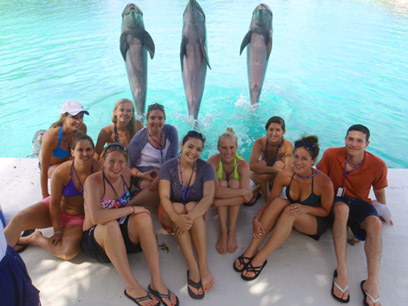 walk to the ferry port for our ride to Blue Lagoon Island. The rain followed us to DE, and arrived the same time we did.
The dolphins greeted us, which was cool to see and hear. Annette oriented us to the facilities and gave us name-specific ID badges. We helped put together Dr. Singer's apparatus and ran through practice on how to work it … i.e., practice trials. Then we helped Dr. D. collect data with her yellow tube (aka SM2M).
We had what one student has called "the best chicken sandwich ever" for lunch. After lunch we had a short bit of time to sit on the beach. Then, we collected more data and sketched the dolphins. We tried to see and remember the ID marks on each dolphin. Ranaldo, one of the awesome trainers, introduced us to Jake, Stormy, Goombay and Sean. We got to help a bit with training and then got to learn a few training signals from Ranaldo. In this photo you can see all of us on Swim #3 platform with Sean, Goombay and Stormy leaping for joy behind us. Note Jake hiding behind Brooke on the far left. He was camera-shy today!
Tomorrow we have our encounter, followed by more research and maybe a snorkel.
Until tomorrow,
The 2012 ECCs
P.S. Oh yes, we also had a lecture on Theory of Mind!