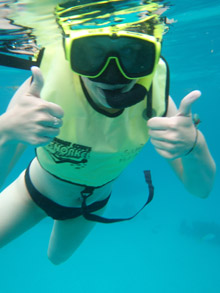 It was sunny this Sunday morning! We ate pancakes! We swam with sharks!
The snorkeling was different from our snorkels in Bimini. It was cool to see lots of fish, but the dive masters were feeding the fish. It was not natural. The fish were almost in your face because of the feeding. The feeling was really touristy.
The shark snorkel was cool but it also was not natural – chum was put in the water after we had been in the water. The shark snorkel was not free swim. We had to hold on to a line and look down. After we were all out, then they chummed for the sharks to come right up to the boat.
We saw a few fish eating on the coral and the sergeant majors were protecting their little dens. We saw wrasse, jacks, damsel fish, tangs, parrot fish and stingrays.
Tomorrow is our first day at Dolphin Encounters – we are all quite excited.
Until tomorrow,
The 2012 ECCs