About 6 years ago, my nephews, Ben and Sam, told me they were taking swim lessons so that they could help me with my research on dolphins. I was beyond impressed and flattered. So, I made them a deal: they learned to swim and be comfortable in the water and when they reached 10, if they were still interested, they could come and help me.
This Saturday, Ben and Sam were my data collection assistants. While I was recording the behavior and sounds of Nina, Cacique, Missy, Aunty V and Soca, Ben and Sam were recording the behavior and action from the surface. They did a great job! They learned very quickly how to recognize each of the dolphins from above the water surface – by dorsal fin marks as well as facial lines and color patterns. I could not have been more proud. 🙂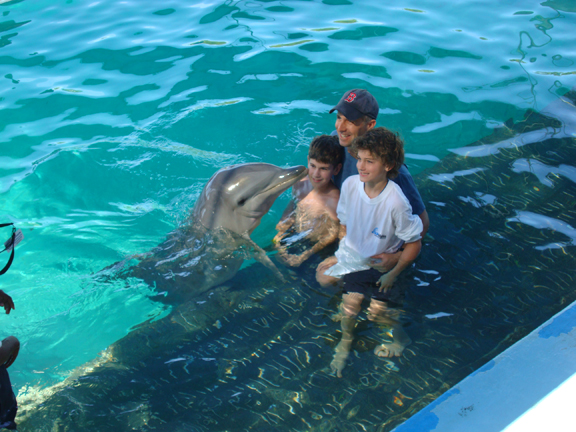 Of course, later in the day, they also were able to meet some of the dolphins – Goombay and Dot to be exact – when they participated in the Dolphin Encounter and then Swim at Dolphin Encounters. They had a great day which was very full!
Sunday was spent snorkeling and learning about the other critters that live in the sea. We were on a hunt for conch and for coconuts. We found the latter and got a chance to taste coconut water! We are still loooking for the conch … maybe today, though the wind came up last night and has not subsided!
We return to data collection on Tuesday morning … hopefully the 30 mph winds will decrease and the rain will stop. Even though I collect data underwater, the wind and rain stirs up the low visibility, making it difficult to see dolphins.
Until tomorrow,
Cheers
Kathleen