Still, I had to get in to see if I could see anything. From the surface, it was clear (no pun intended) that the visibility was not great. At about 10 am, the program in Pool #5 was finished and I could get in with five dolphins: Aunty V, Soca, Missy, Nina and Nina's calf, Cacique. They were all over me and quite curious but in a zigzag fast swim fashion for the first 5-8 minutes.
I weas able to record some behavioral interaction between Soca and Aunty V and between Nina and Cacique. They swam me around, that is for sure. Also, Nina was quite inquisitive of the hydrophone boxes and the MVA. This entry was the first time she almost put her rostrum on the boxes and eyeballed the front plate of the MVA. The dolphins get really close with one eye peering into the housing through the front and I get the feeling that they are really wondering what the heck is inside this green thing! I can only imagine what how the MVA is represented by echolocation … an extension of my arms (I must be a really strange human if that's the case!), something distinct from me but attached to me, or something entirely outside of my imagination.
Either way, Nina approached closely but tried to keep Cacique on the other side of her from me. I guess it was okay for her to check me out, but not her son. And, Missy and Soca buzzed me with echolocation on every other pass by me. Aunty V swam under me but upside down. Needless to say, the 20 min of video from today will keep me busy, and entertained during analyses!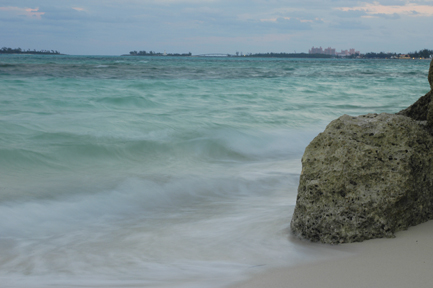 So, today's photo is not of the dolphins, but of the wind. Yes, John (my amazing photographer husband) has identified a way to photograph wind! The scene is the shoreline under a long exposure so that you can almost see the wind blowing the ocean spray all over the place.
Cheers
Kathleen
P.S. this morning also included a skype link to the Boston Museum of Science! Thank you to all the folks in the audience and especially to Brindha and Adam for making it possible for me to share a bit of our research, and The Bahamas winter, with folks in Boston via the internet.