The morning image is the view we (Kathleen and Manon) have each morning at 5:15 AM as we greet the day in prep for the students and data collection! It is breath-taking!
This morning was our last data collection session, and we were greeted with a mild current and poor visibility. A few times, Kathleen felt like she was moving across a section of the lagoon, but she really wasn't – due to the current. We saw Alita, Buzz, and Ronnie several times. And, there was much social-sexual activity among Stan, Lenca, Rocky, Buzz, Tank, and Sandy in several areas of the lagoon.
URI's group had a leisurely breakfast and a few swims before finalizing their packing and grabbing the shuttle from AKR to the airport. (Note: Kathleen and Manon heard from Justin that the group arrived safely to Atlanta having completed leg 1 of their return journey.)
The afternoon was all about packing and then saying so long for now to the dolphins and the training staff. We look forward to seeing them in the spring.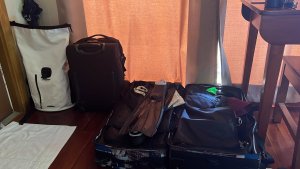 We collected video data across 19 morning sessions with mostly good underwater visibility. We also collected 13 space use AM sessions and field tested a drone perspective for space use imagery (Thank you, John). A very productive three weeks!
Stay tuned for our next field blogs in March!
Kathleen & Manon