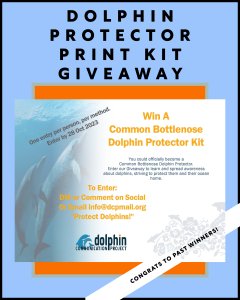 One last giveaway for the fall! Enter by 28 October 2023 to win a common bottlenose Dolphin Protector Print Kit. Just email us, message us via social media, or comment on a social media post with "Protect Dolphins!"
What does a Dolphin Protect Kit include? A personalized certificate, photograph, info sheet, and more. 
Can't wait to win and want to purchase a Dolphin Protector Kit now? Head to our online store by clicking here.