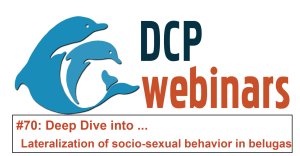 *Content warning: As the title indicates, this talk discusses sexual interactions in non-human animals. The speaker uses vocabulary and shows images related to sexual interactions and reproductive body parts in non-human animals, particularly beluga whales. As such, we recommend this presentation for mature audiences.*
In this talk, you'll learn more about the socio-sexual behavior of belugas (or white whales) and the recent research that examined whether beluga socio-sexual behavior is lateralized. We also discuss how the lateralization of this behavior changes across development.
Malin Lilley is an Assistant Professor of Psychology at Texas A&M University-San Antonio. Her research focuses on the development of social and socio-sexual behavior in cetaceans. Learn more about Dr. Lilley's work at https://www.researchgate.net/profile/Malin-Lilley.
You can also find other DCP webinars on our YouTube Channel or here on our website, under the Knowledge Hub!
(Recorded October 2022)