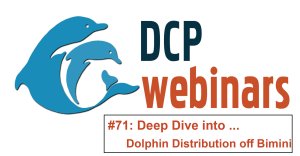 In this talk, you'll learn more about DCP's study on the sympatric distribution of Atlantic spotted and bottlenose dolphins immediately off Bimini's shores. How do these two dolphin species stay separate? And what type of behaviors do we observe in this nearshore area? Two of the authors, Kel Melillo-Sweeting and Christine Ribic led this talk. The topic was also presented at the SMM conference in August 2022 and featured in a 2022 episode of The Dolphin Pod.
This Deep Dive is geared toward ages 14+, but all are welcome. Contact DCP if you'd like a copy of the article!
You can also find other DCP webinars on our YouTube Channel or here on our website (under the Knowledge Hub).