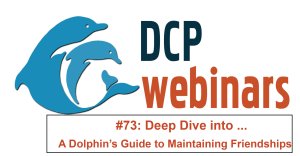 Emma Chereskin talks about the male bottlenose dolphins of Shark Bay, Australia in this "Deep Dive." These dolphins form the most complex alliance structure outside of humans. Forming alliances, and maintaining those friendships, is vital in securing paternities and protecting females from rival males. In this talk, Emma explores the wide variety of mechanisms, such as touch, synchrony, and sound, used by these dolphins to maintain their decades-long friendships. Emma is a marine mammal scientist and current Ph.D. candidate at the University of Bristol, UK, supervised by Dr. Stephanie King. Her research explores the role of vocal signals in facilitating cooperative acts in male Indo-Pacific bottlenose dolphin alliances as a part of Shark Bay Dolphin Research in Shark Bay, Western Australia.
This Deep Dive is geared toward ages 14+.
You can also find other DCP webinars here on our website or on our YouTube Channel!
Originally recorded February 28, 2023
The publication Emma references is:
Chereskin et al., 2022. Allied male dolphins use vocal exchanges to "bond at a distance." Current Biology 32, 1–7. https://doi.org/10.1016/j.cub.2022.02.019