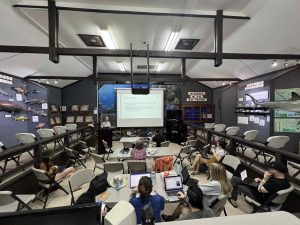 A bright sunny sky greeted us this morning as we boarded the water taxi for Bailey's. The dolphins were VERY vocal and playful. Champ, Lenca, Stan, Tank, Rocky, and Sandy all enjoyed playing with Kathleen's fins, much to her chagrin! Poli's calf was observed nursing. Ronnie played with seagrass and Gracie and Trixie played with seagrass together. After a yummy breakfast, we had lectures from Kristin and Richard to set the academic stage for the week. Then Kathleen and Manon reviewed the Space Use Data sheets and activity levels. The classroom was VERY chilly but the topics and discussion were lively. Lunch was delicious and we returned to Bailey's for a Space Use data collection practice session. Then, we had some downtime to kayak, paddleboard, enjoy a hammock, nap and other, before the night snorkel. The sea was very calm and the critters active. It was a good first night snorkel for most of us.
Daniel – Today, we learned about methods of studying animal communication and behavior.
Marriah – I'm starting to understand the data sheets and enjoying observing the dolphins more now.
Liz – Today, I met an island cat and was blessed by her. Then she left.
Amalia – I watched a beautiful sunrise (have the photos to prove it) and then got towed on the paddle board by Shereen and Daniel.
Anna – Night snorkeling was so much fun and interesting. I can hardly wait to go again.
Giulia – Today, I felt like I could see many more details about the dolphins than yesterday. I did not even know what to look for yesterday but today I did.
Poppy – It was interesting to see the difference in the reef after dark.
Shereen – Today, I saw 11 kinds of birds and a pufferfish.
Richard – It was hard to see the fish in the dark, but I had a flashlight, so it was ok.
Kristin – During their afternoon off, half the class was so excited about honing their dolphin ID skills that they paddled over to Bailey's Key and the dolphins to practice!
Manon – Pretty cool night snorkel with a big green moray eel (but no hat!).
Tomorrow is another early data collection session, but our dolphin encounter and swim programs will fill the morning!
Until then,
Cheers
The York U team