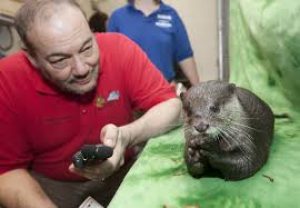 Associate Professor, University of Cincinnati
Associate Professor
Associate Professor
Peter is a Vietnam veteran and retired Navy Lieutenant Commander.  Having entered the Navy as an enlisted man he served in various ratings. Peter also began working with marine animals while in the Navy and was the Director of Training for the Canine Obedience Training Club of Hawaii.  After eleven years he became a Commissioned Limited Duty Officer and Naval Oceanography Officer specializing in marine mammal bioacoustic research.  During his final ten years he worked at the Naval Underwater Systems Center in New London, Connecticut and at Mystic Marinelife Aquarium where he was Chief Scientist for the Navy Marine Mammal Technology Research Program at NUSC and eventually, Head Trainer at Mystic Aquarium.  It was in this command that he received a presidential award from president Busch Sr. for his pioneering work in dolphin bioacoustic research as it related to transducers and fetal ultrasound and was inducted into the Order of the Decibel.  He retired after 22 years of active service.  After retiring he trained and worked narcotics dogs for the U.S. Coast Guard for drug interdiction and research for a brief time. 
In 1991 Peter began working at the National Undersea Research Center for the North Atlantic and Great Lakes at the University of Connecticut as Director of education and outreach programs and Marine Operations Manager.  He is presently an Assistant Professor in the Neuroaudiology section of the College of Allied Health Sciences at the University of Cincinnati Medical School and Adjunct Assistant Professor in the Communications Science Department neuroaudiology laboratory at the University of Connecticut, and adjunct in the Animal Sciences Department, Animal Bioacoustics and Neuroaudiology section at the University of Connecticut. He specializes in neuroaudiology and electrophysiology. He has also taught at the American School for the Deaf on behalf of the University of Connecticut under a National Science Foundation grant.
Peter's specialty regards integrated research into the Lombard Response in humans as it relates to central auditory processing disorders and Attention Deficit Disorder and neurological disorders such as Alzheimer's disease in school children as well as marine mammal, exotic and companion animal bioacoustic, central auditory models related to human neuroaudiology and central auditory processing systems.  He also presently conducts research on the effects of low-frequency noise on the Beluga Whales of the St. Lawrence River Estuary for the Department of Fisheries and Oceans and GREMM, Canada, and canine hearing and the study of central auditory system relationships to cognitive processing in animals using electrophysiological techniques.  He is a collaborator in the study of animal vocalizations related to stress using advanced neural computer model techniques under a grant from the National Science Foundation with Marquette University.
Peter has been involved with human neuroaudiology research for 8 years and animal/marine mammal bioacoustic research and training for 28 years.  Peter's degrees are in Physics, Oceanography, physical acoustics and animal Bioacoustics (with a minor in speech and hearing sciences) with a medical elective in head and neck anatomy and an elective in mechanical engineering.  He received his AA from the University of Hawaii, BS, MS and PhD degrees and engineering elective from the University of Connecticut and did his medical elective (medical research, gross anatomy) at Mount Sinai.  He is married to Lesa Collins-Scheifele and has two children; Peter age 14 and Samantha, age 12.  They live in Bethel, Ohio.