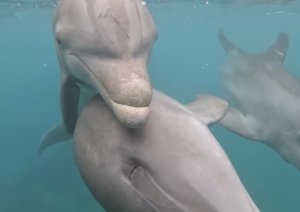 It seems like I begin each blog report this week with a weather report! But it's felt like a forecast or recount of the morning weather is in order each night. We woke to a breeze but no rain – hurray! And, on our way over to Bailey's Key we had blue skies! The sunshine appeared later in the day and was followed by an increase in the wind. This gave the divers some wild boat rides and cancelled the from-shore snorkeling at Maya Key, but everyone also got the chance to dry out, when not in the water.
Our morning began with the dolphins and a longer underwater session – 29 min to be exact. It was the Stan, Tank, and Rocky show mostly (That's then in the featured image and below).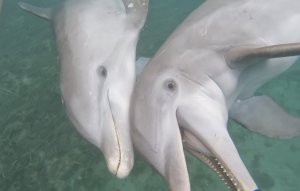 They wanted me to play but I was content to watch them interact and chase each other and sometimes try to play with my fins. Gizmo seemed more intrigued by my legs and fins today but not curious enough to come closer than 4-5 feet. And, she spent time with Poli as well as her mom, Elli.
I was also able to collect some details on a training session with Meredith (trainer) and Bailey (dolphin) for our symbol reading study. Bailey was a bit rusty and only remembered 6 of 9 symbols. But we will do two more sessions tomorrow to see how things progress. Our weather is set to improve, and I'll have more of our group with me in the morning to help collect data.
Until then,
Cheers
Kathleen and DCP's October 2022 Ecotour Group