Dolphins in the morning: data collection and review and learning about RQ from Manon. We also practiced recognizing different dolphins and then began our personal chats with Dr. K and Dr. D – we have to either draft a research proposal examining a behavioral indicator of physiology or create a PSA using something we learned on this course to teach folks in CO. We also had an early afternoon lecture from Jen about coral reef restoration (way cool that scientists have identified a way to grow coral swiftly – maybe letting us repopulate some of the damaged reefs). And our evening wrapped up with a nighttime boat snorkel followed by dinner.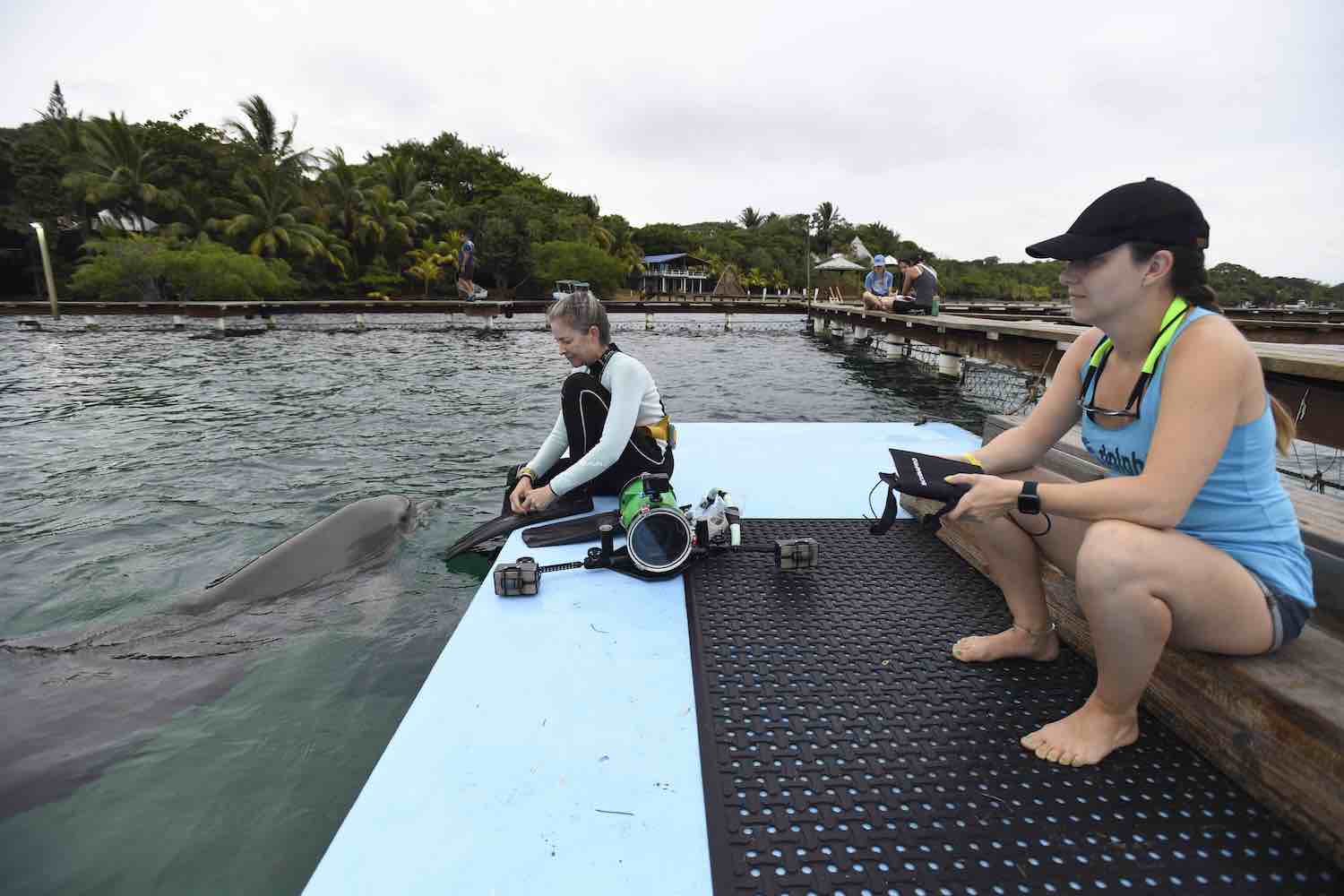 Here are some of our individual thoughts:
Ella – The night snorkel was the coolest thing I've ever done. I saw an octopus and lots of brittle stars – a gazillion of them!
Thomas – I don't know which was brighter tonight – our spotlights or our smiles along the way.
Kya – I was Elle's partner for the night snorkel and I agree with everything she said.
Brynn – I'm glad I sucked it up and did the night snorkel because I got the chance to see so many amazing creatures.
Cacie – The night snorkel sounded terrifying, but it turned out to be an extraordinary experience full of coral, eels, and fish.
Reagan – the night snorkel had such unique wildlife, but my favorites had to be the eel and the octopus.
Haylee – I saw four more octopus than I was expecting to see and I was expecting to see none!
Marissa – The night snorkel was my favorite snorkel so far because I accomplished my goal of seeing an eel.
Shelby – There is nothing better than starting the day observing dolphin and ending with a nighttime snorkel.
Selina – After listening to Manon's lecture, I realized that I'm not good at using a computer and it is important to learn it because it makes your life easier.
Arianna – The night snorkel felt like entering another dimension and being able to see all the creatures I had only seen on slides was otherworldly.
Catalina – Even though I was a little scared of the dark, the night dive was extraordinary and I saw many neat animals – for example, eel, pufferfish, and scorpionfish.
Justin – An immaculate nocturnal dive led to the discovery of a pokey pufferfish, the oogling of an octopus and the fear of an eerie eel.
Allison – I should have learned to paddle board sooner because it was super pretty and relaxing!
Hannah – The coolest fish I saw on the night snorkel had to be the puffer fish, trunk fish, scorpionfish, and lionfish. The octopuses are very good at camouflage
Maddie S – I really enjoyed the coral reef restoration talk and hope one day to be a part of these conservation efforts.
Maddie M – Seeing the reef at night was seriously one of the coolest things I've ever seen. And, the pufferfish was very adorable.
Abbie – I think today is my favorite day because I feel like I'm getting more proficient at recognizing dolphins and doing the observations. And, yeah, the night snorkel – wow!
Manon – The two spotted drum fish was really mesmerizing.
John – Tonight, I was the pied-piper of a silversides swarm.
Shane – Student meetings and the night snorkel signifying the nearing end of an excellent trip.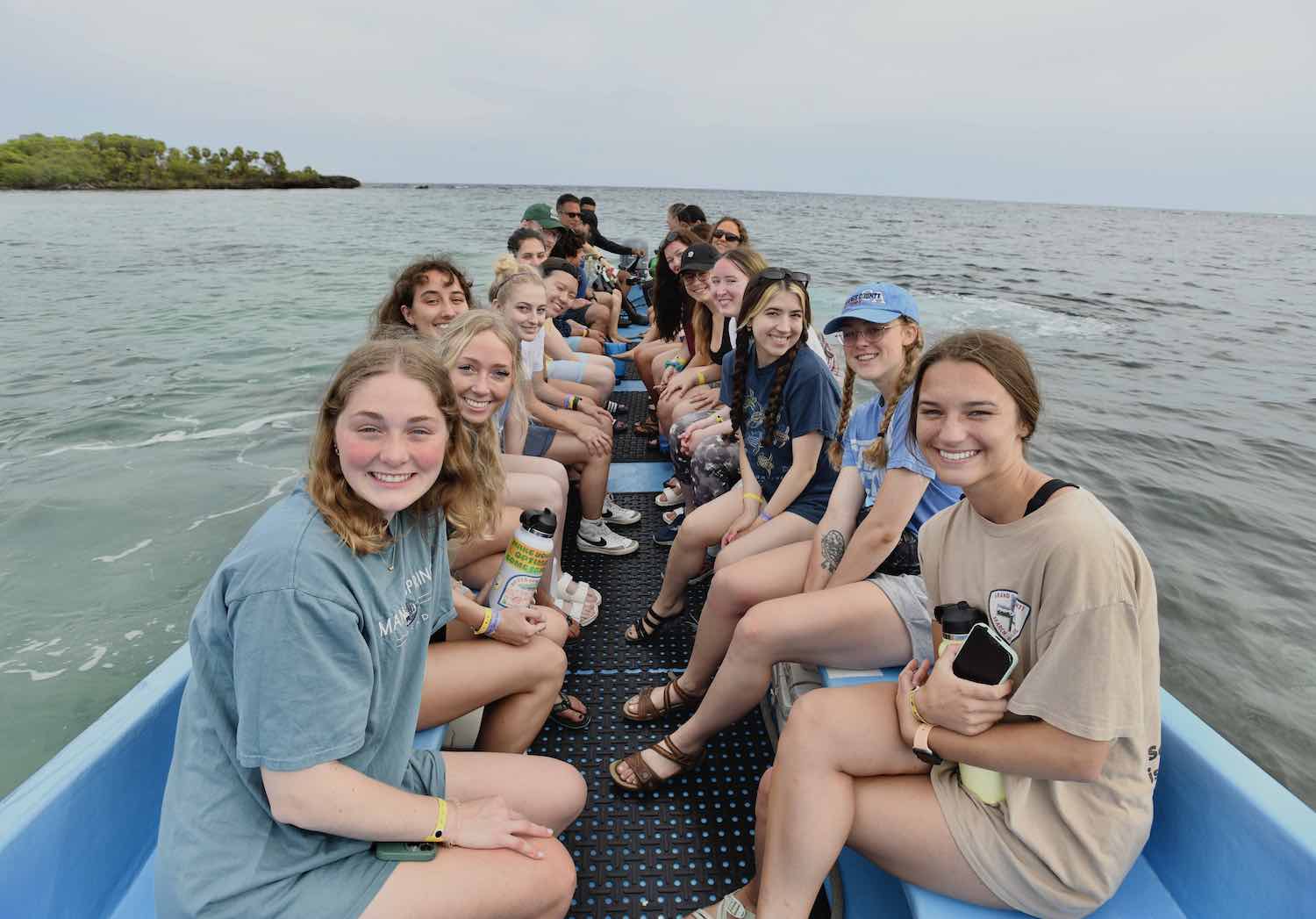 Tomorrow is another dolphin observation session and an informal talk from Samir Galindo … then more discussion(s) about our projects.
Until then,
CSU Dolphin Gang plus a TX rattler with DCP