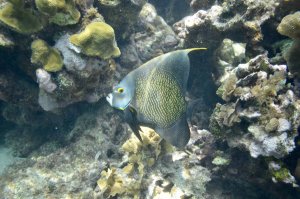 The students are getting more proficient at the space use data collection and the surface logs. The underwater visibility was better and the dolphins more social. Gracie and Trixie and Elli with Gizmo spent much time circle swimming Kathleen. Stan had some tight circles and vocalizations. After a quick breakfast, we spent a couple hours on the snorkel boat and in the water – two snorkels were had and provided glorious views of several fishes, one small shipwreck and several statues. It was quite fun!
Allison – I learned a lot of really cool conservation efforts for sea turtles, and we should continue those conservation efforts for the turtles' sake.
Cacie – During our snorkel today, I saw some beautiful organisms and I had the new experience of seeing a shipwreck and underwater statues.
Selina – Working at Antarctica looks really cool but I still want to stay in a tropical country.
Kya – it was a cool learning experience to be able to snorkel on the reef and see so many fish and then get on the boat and immediately be able to ID the fish species with the waterproof charts.
Hannah – When I first saw the dolphins come up and take a breath, I was wondering how they could only take one little breath and return underwater for so long. Now it makes sense. Thanks, Dr. Kanatous!
Reagan – Snorkeling in the coral reef today was so beautiful and I finally saw my banded butterfly fish.
Arianna – During the snorkel today, I was able to ID a few of the fish species; however I do wish I'd gotten to see an eel.
Marissa – During our snorkeling session, I accomplished my goal of seeing a peacock flounder (flat fish on a beam of a wreck).
Thomas – I saw a lot of new things on the reef snorkel today, but the pufferfish and filefish were my favorite.
Justin – A lot of my questions on diving physiology have been answered; however, now I am curious as to whether diving mammals experience head pressure with increase in depth.
Maddie M – The reef is so pretty and I saw so many fish but I thought the lionfish was really cool.
Haylee – I thought it was very interesting that a lot of diving mammal physiology was closer to our physiology than I would have expected.
Brynn – Being stung by a jellyfish does not hurt as much as I thought (I'm okay, mom and dad!).
Shelby – Wonderful day exploring the underwater world and searching for familiar fish on our snorkeling trip. Excited to see Honduran festivities tonight!
Ella – Although learning about physiology is overwhelming it is interesting to learn about how air-breathing mammals can hold their breath for so long.
Maddie S – I really enjoyed data collection in the morning because I felt like my team members and I were a lot more confident in our abilities.
Catalina – My first physiology class was the most mind-blowing and headache-inducing experience, but I want more.
Abbie – Jellyfish are scary – remember the three c's – cool, calm, collected!
Manon – Underwater visibility was great and we got to see a queen and (of course) a French angelfish.
John – I enjoyed the snorkel today with the little shipwreck.
Shane – I'm not sure how to interpret the fact that the students said they enjoyed my physiology lecture, but I also inflicted headaches!
We wrapped up the evening with Fiesta fun on Anthony's Key – a BBQ, hermit crab races, a limbo and dance context. CSU's streak is alive and kicking with Marissa winning the limbo and the dance contests! Woohoo!
Tomorrow is more dolphin observations, some lectures and chatting about projects.
Until then,
CSU Dolphin Gang plus a TX rattler with DCP