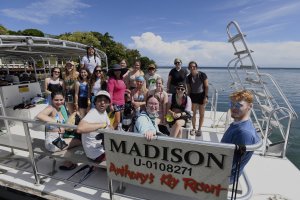 Today was a jam-packed day! We had early morning data collection followed by a yummy breakfast and open discussion about any topic. Then we went to Maya Key for a morning snorkel on a south-side reef, viewed rescued animals, had a delightful lunch and toured the Mayan ruins on the island. Our late afternoon was spent with the RIMS trainers and dolphins getting to know them all a bit better. Thank you to Eldon, Teri, Denry, Elyork, Cain, Antony, Jason, Gerald, Archie, Kenly, and the dolphins for your time this afternoon!
here is Sandy, with Rocky, Buzz, Lenca and Tank playing in the background: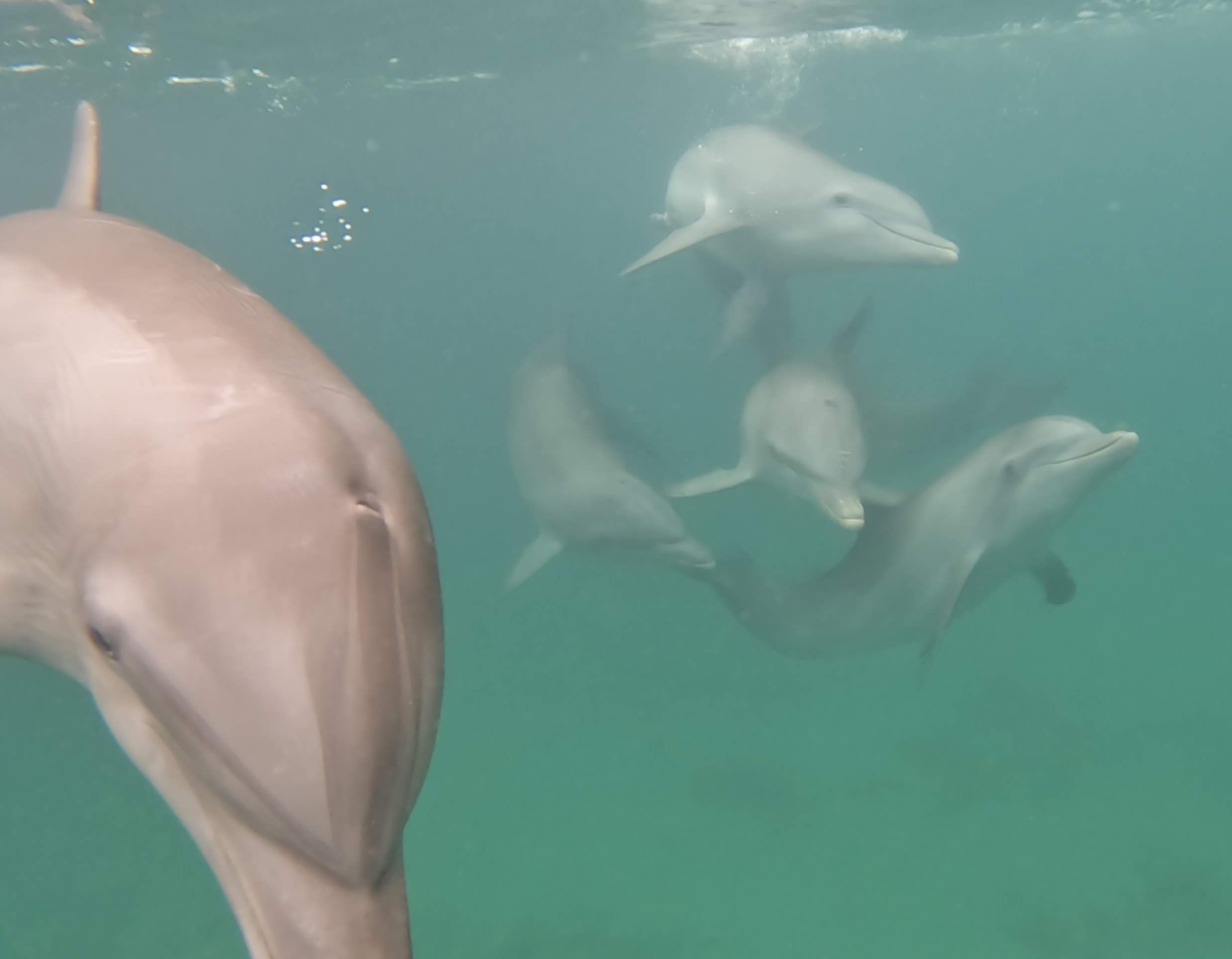 Here, we share our impressions of the day:
Allison – It was hard to determine what was more interesting from today, the fish on the reef, feeding the sea lion, or watching the dolphins in their training!
Justin – We saw an eel for eel (for real). (Kathleen does not get it!)
Thomas – I don't know which I find more impressive – the amount of salads I've eaten or the fact that I've not been sunburned, yet!
Ella – Snorkeling was very fun and we saw lots of little disco fish.
Cacie – Observing the dolphin training session was an excellent opportunity to learn about how the dolphins are cared for here at RIMS.
Maddie M – I had a super fun day snorkeling and seeing all the animals and the dolphins, even though I got played with by a monkey.
Maddie S – I'm extremely tired but still really excited for the dolphin encounter tomorrow.
Hannah – Seeing the reef felt like I was transported to a different world and it was much more fun than almost being robbed by a monkey!
Reagan – Snorkeling on the reef was really fun and I really wish I could have petted the jaguar.
Arianna – Maya Key and its reefs were surreal and I hope that dropping my phone into the water did not ruin all my pictures.
Brynn – I never thought that I would be holding the tail of a monkey in Honduras.
Kya – Snorkeling, feeding the sea lion, and exploring Maya Key were my favorite parts of the day.
Haylee – Seeing the dolphin training session was very interesting because I'd never really observed an active animal training session.
Shelby – After listening to everyone, I still don't have words to describe the beauty of the snorkeling adventure today.
Catalina – I really liked meeting the rescued animals at Maya Key and I'm glad the puma is on a diet and able to live better.
Selina – Maya Key is a paradise. It was fun seeing the Iguanas eat the food near the sides of the dining area.
Marissa – I really enjoyed getting to see an underwater world and I never thought a dolphin would feel like a hairless hamster in water.
Abbie – Another long adventurous day and I think I'm starting to recognize the dolphins.
Manon – Nice squid squads on the reef.
John – I met Gizmo today – an awfully cute baby dolphin!
Shane – It was awesome to see the octopus this morning, and I'm glad the folks are beginning to share their crazy with the rest of the world.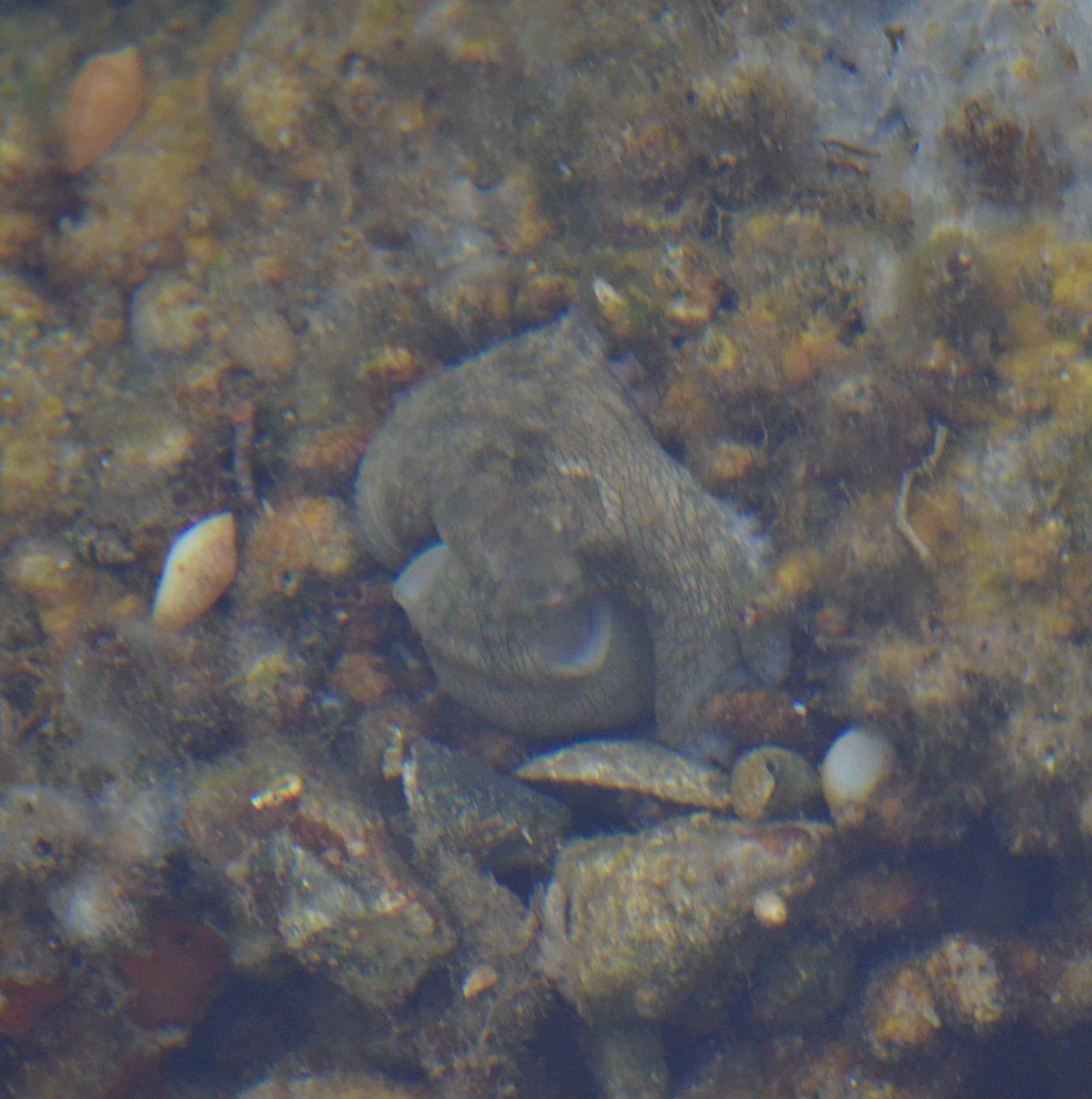 Tomorrow will come early (again) with data collection. But we also get to meet and spend a bit of time with the dolphins in the water.
Until then,
CSU Dolphin Gang plus a TX rattler with DCP