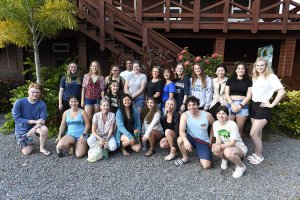 In two groups we arrived to Roatan. One from Denver and one from Miami. And we spent a bit of time in the very very long immigration line. But, it was worth the early hour arrival to the airport and the wait. Below are the tired first impressions from our student field course group. You can see their smiling faces after our on-site orientation this afternoon in the photo.
Justin – Oh no (I'm first) It has been a very long but fun day.
Ella – it's so amazing here that I forgot that I was tired.
Allison – the dolphins were mesmerizing to watch.
Shelby – the humidity is insane!
Brynn – the sheer size of the dolphins is amazing!
Reagan – long day of travel but seeing dolphins was pretty worth it.
Haylee – dolphins and caffeine turn out to have basically the same effect on me!
Selina – it's good to be back in the water.
Marissa – I don't know what was better: the food or the dolphins.
Kya – after seeing the dolphins I don't think 8 days will be enough.
Hannah – it still all feels surreal and I never wanna leave.
Arianna – the wildlife here is amazing.
Maddie S. – really tired but excited for the week.
Thomas – there's a lot more to learn when you slow down and take it all in.
Cacie – nervousness turned to excitement at the sight of the dolphins.
Maddie M – I didn't like getting up at 2 AM but I did like seeing the dolphins. So, it was all worth it.
Catalina – I've been falling asleep throughout the day, but I feel very happy and welcome.
Abbie – It's been a long day and I'm excited for tomorrow.
Manon – Beautiful take-off over the keys and it's nice to see the dolphins again.
John – here we go again.
Shane – very enthusiastic group and I'm excited to see what happens for the week.
Tomorrow begins with a ~6 AM meet at the water taxi for our ride to Bailey's Key and dolphin data collection!
Until then, signing off tonight as the
CSU Dolphin Gang plus a TX rattler (including Manon, John & Kathleen from DCP)