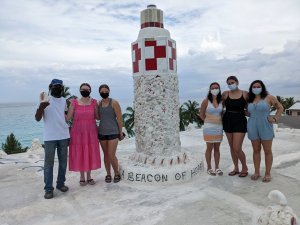 (We hope you enjoy post #3 from the students currently at Sea Crest Hotel & Marina! DCP is continuing to work through the new research permit process in The Bahamas. So, though we are sad to not be collecting data, we are happy these students are getting so many incredible experiences in Bimini.)
On Sunday morning, our class session was on photo-ID. It was fun to investigate photographs, like solving a crime….well, sort of. We felt like investigators pouring over photographs and evidence, looking for patterns. Abby found it pretty cool that DCP can see the patterns, especially on moving animals, through the water. Sophia was surprised at the challenges; in theory, it sounds easy to just match some patterns. Liv commented about the disappointment-like feeling when calves do not have any re-identifiable marking.
During break, we headed to the beach, finding a patch of rocks in the water. No one was around (we prefer feeling we have the beach to ourselves, ha!) and we waded into the water, looking for shells, sea glass (so much!), and tiles. Sophia suddenly spied a star fish (Kel later told us this was a cushion star). Brie declared Bimini as officially the beach with the most sea glass! We chatted with a local, and as we introduced ourselves, we learned he had "Sophia" tattooed on his wrist in Greek letters. We also explored the straw market; it was a busy day and the sales ladies are, ummm, inviting. But, we were just scoping it out; we'll wait until later in the week to make our purchases.
Next, it was a class session on The Bahamas Marine Mammal Protection Act and Stranding Network. Kel told us stories about how the network was formed and the instances in which she has had to act here on Bimini. We were inspired by hearing #104's story, were fascinated by the tag technology, and we'll now be keeping our eyes out for him on the boat. The limited scar from the tag was also impressive, in terms of the goal to reduce the impact on the dolphin and the dolphin's ability to heal. During this class, Sophia asked about seeing sea horses in Bimini…
After lunch, we had another round of beach time to hang out, relax, and enjoy the break. A lot of shells were stuck in the rocks, seemingly cemented in there. When we arrived at the marina, there was a surprise….a seahorse! Sure, maybe Captain Al collected it as a school lesson for the children, but we'll go ahead and pretend it was for us. It was bigger than we expected and somehow we were surprised at its movements, bobbing, and use of their little pectoral fins. We watched as Al gently returned it to its hiding spot, a rope dangling off the dock, with lots of sea growth on it. Though it took a little encouragement, the seahorse did return, using it tail to grab hold of the safety of the rope. Then, it was time for dolphin searching!
It felt really sunny and hot out, but the sea breeze helped. As the day went on, we got hotter and then distracted, then it was breezy, then it was cool by the time we returned home. The ocean was very clear, you could see the ripples on the sand. We didn't have to ride far when Kel spied a leaping calf headed our way. We watched from the boat as a 1-2 year old calf approached, followed by what we were expecting to be its mother. Nope. It was an older male calf/very young juvenile with a very, very young calf. We followed them, observing their behavior from the boat, continued to keep watch for their mothers, expecting them to show up at any moment. The youngest calf was almost always very close to one of the others, positioning itself in similar positions as it would with its mother. After a long observation, we all got ready to observe them in the water; Nicole got in first, to gauge the dolphins' interest level. The dolphins were game to check out Nicole, so we all got in. For Abby, that moment of receiving permission to slide in the water and then expecting to see them, was just amazing. The dolphins were an arm's length or closer to our bodies. The dolphins swam under Sophia, giving another angle to watch them as they swam between and around all of us. There were moments of cool/daunting realization that we were doing all of this in the real ocean. As they scoped us out, sometimes making eye contact, we were reminded of the lessons we have had on their eyes and eyesight. Liv saw lots of small jellyfish, but they weren't stinging. Even if they had, it would have been worth it.
Stay tuned for tomorrow's report: Here is a preview photo!
Until tomorrow,
The Final Five (SHU 2022)