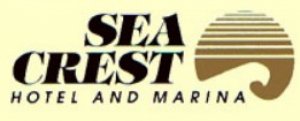 —-Hello DCP followers! We are thrilled for the first university course at Sea Crest Hotel & Marina in two years! Though we cannot collect any data due to pending research permits, we will be meeting our educational mission through our field course with Sacred Heart University (SHU). For the next week, we hope you enjoy reading the blog posts written by SHU students, the self-proclaimed "Final Five."—-
The Bimini course is finally here! It was a long travel day. For Liv, it was her first time traveling internationally without family and her first time at JFK. For Brie, it was her first time traveling without family at all but traveling with fellow students was reassuring. JFK was familiar territory for Sophia, but she was surprised at how busy it was, so early (4:30 a.m.!). Still, security was smooth. Abby isn't crazy about flying, but planning, being with friends, and knowing Bimini was the prize helped calm the nerves. Julia flew solo from Boston and met the rest of us in Fort Lauderdale. Signage was good for the terminals, but we were still reassured once we were together. Navigating the connection was a good experience and we already feel better about the trip back.
Going onto the tarmac and walking up the stairs, instead of down a jetway, recognizing all the other passengers from having waited at the gate together, and getting on the small (!) plane, was all new for us. The flight is listed as 45 minutes, but the pilots announced it would only be about 20 minutes in the air. The plane also flew lower than we'd ever done; we could see weed lines at the ocean's surface, though we didn't know what they were at the time. Landing on South Bimini, we couldn't believe the whole airport was just one little building. It felt personal, like we were immediately immersed in the culture of The Bahamas. The whole day it was hard to keep track of time; our actual flight time was only a few hours of the long, busy day. 
Once we arrived, some of us realized it wasn't what we expected. But maybe that was because we really didn't know what to expect! Immigration was easy, but also a little nerve racking. Being organized when you enter another country was a great lesson. We had everything we needed and there were no issues. Knowing we can do it, as responsible adults, has given us a new confidence. Our taxi and water taxi drivers, and even locals passing by, were kind and helpful, and the water taxi (Julia's first ferry!) to North Bimini was quick, with a friendly little girl who was adorable and welcoming. We were dropped directly at the Sea Crest and continued to see the friendliness of the country. We were able to safely walk around, making discoveries on our own.
The beaches up north where we are all from are fun, but nothing like this! The sand here is soft, the water is clear and blue; it was like being in a pool. Well, except for the waves! Kel warned us about the "waves" – they were big for Bimini, but small by many beach standards. Examining the sand was fun, a mix of shells, rocks, and grains of sand, very unlike home. We collected some sea glass and Sophia is going to have a hard time choosing just two shells to take home. The beach was immediately relaxing and the water was nice.
We all instantly got along and know it will be a great week! Kel noted that even though some of us are roommates back home, she couldn't even tell who it was.
More tomorrow,
The Final Five (SHU 2022)