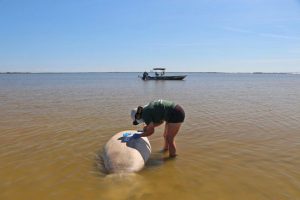 *Content warning: As the title indicates, this talk discusses manatee deaths. Language and images may be upsetting to some viewers. As such, this talk is recommended for mature audiences.*
Manatees are dying in record numbers in Florida, largely because of a progressive seagrass die-off in the Indian River Lagoon. Our guest speaker, Amber Lea of Mote Marine Laboratory, will discuss how we got here and what can be done to mitigate the negative effects on one of Florida's most beloved sentinel species.
This program is geared toward ages 14 and up, but all are welcome.
Wednesday 16 February 2022, 7:00 p.m. ET
Zoom Link: https://us02web.zoom.us/j/83943634016 (or use Meeting ID 839 4363 4016)