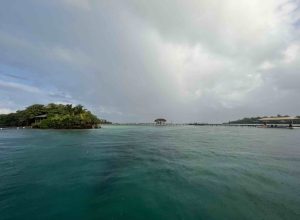 Our day began typically with dolphin observation data collection. While waiting for the return water taxi to breakfast, we watched in awe as a rain squall swept across the boat channel from Anthony's Key to Bailey's – we huddled under the palapa but still got wet (see cover photo). Dr. D., Dr. K., and Manon stood in the pouring rain. The warm breakfast was delicious! After which we spent the morning in the classroom, while it continued to pour. We watched this morning's video and practiced IDs of the dolphins and then had the continued physiology lecture from Dr. K.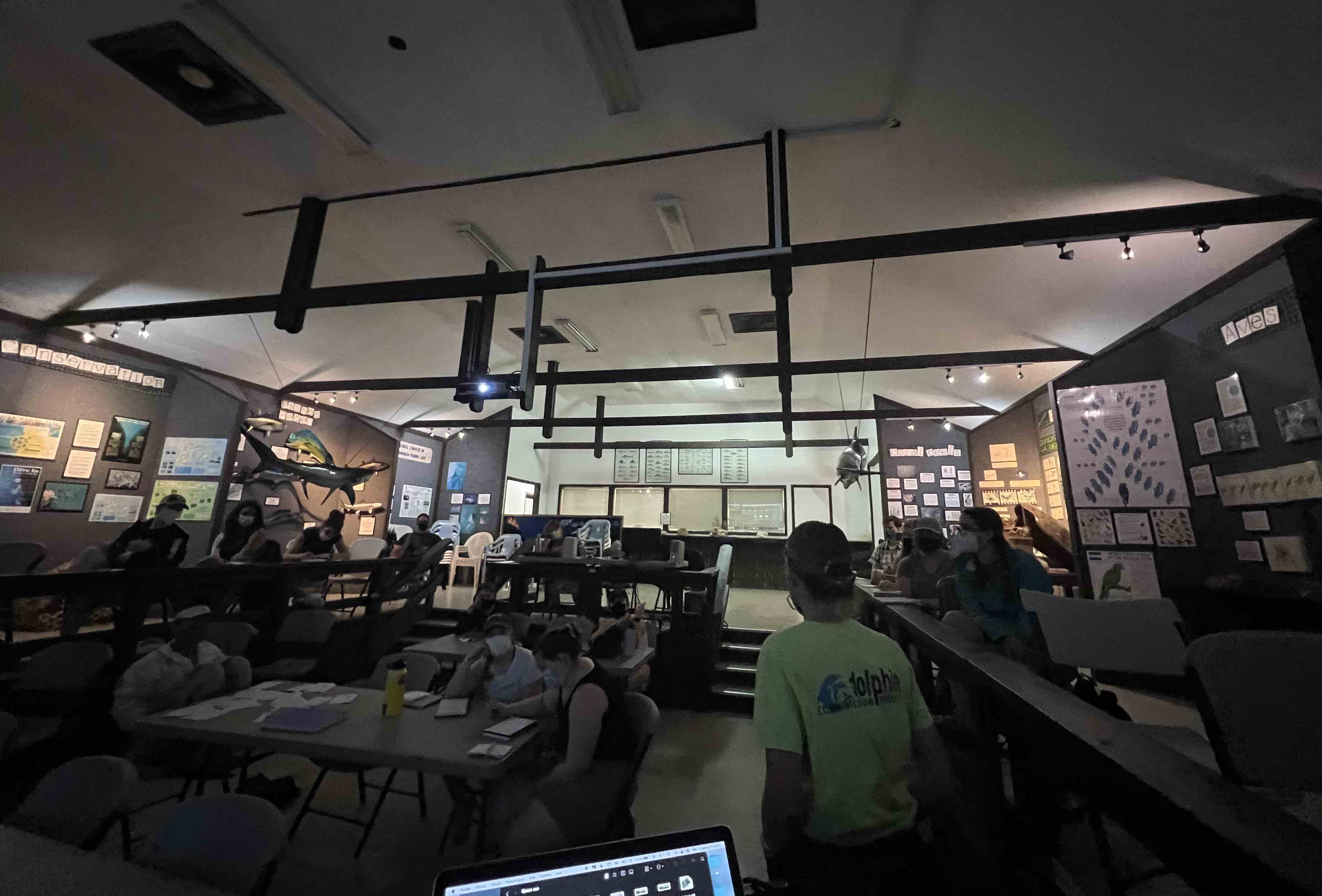 Lunch gave us a break before we had a lecture on sea turtles from Jen, Education Director at RIMS, followed by a presentation by Teri, RIMS Assistant Director, on training. We wrapped the afternoon with a hands' on introduction to training with Teri and Tilly at Bailey's Key. Tonight is Fiesta night on the key. So, we did this blog early. See our memories of the day just below.
Bailey – I really enjoyed observing the dolphins again this morning even though it rained a little bit. It was also cool to learn about how the dolphins at RIMS are trained.
Lindsey – Seeing the dolphins training was the highlight of the week so far. And behavioral science is definitely a growing passion.
Nicole – learning about sea turtles and dolphin training was extremely fascinating and I can't wait for the fiesta tonight.
Peyton – I learned a lot about dolphin training today and I can't wait to race hermit crabs at the fiesta tonight.
Sia – I really enjoyed the sea turtle talk today and getting to see some of the training up close was a really cool experience.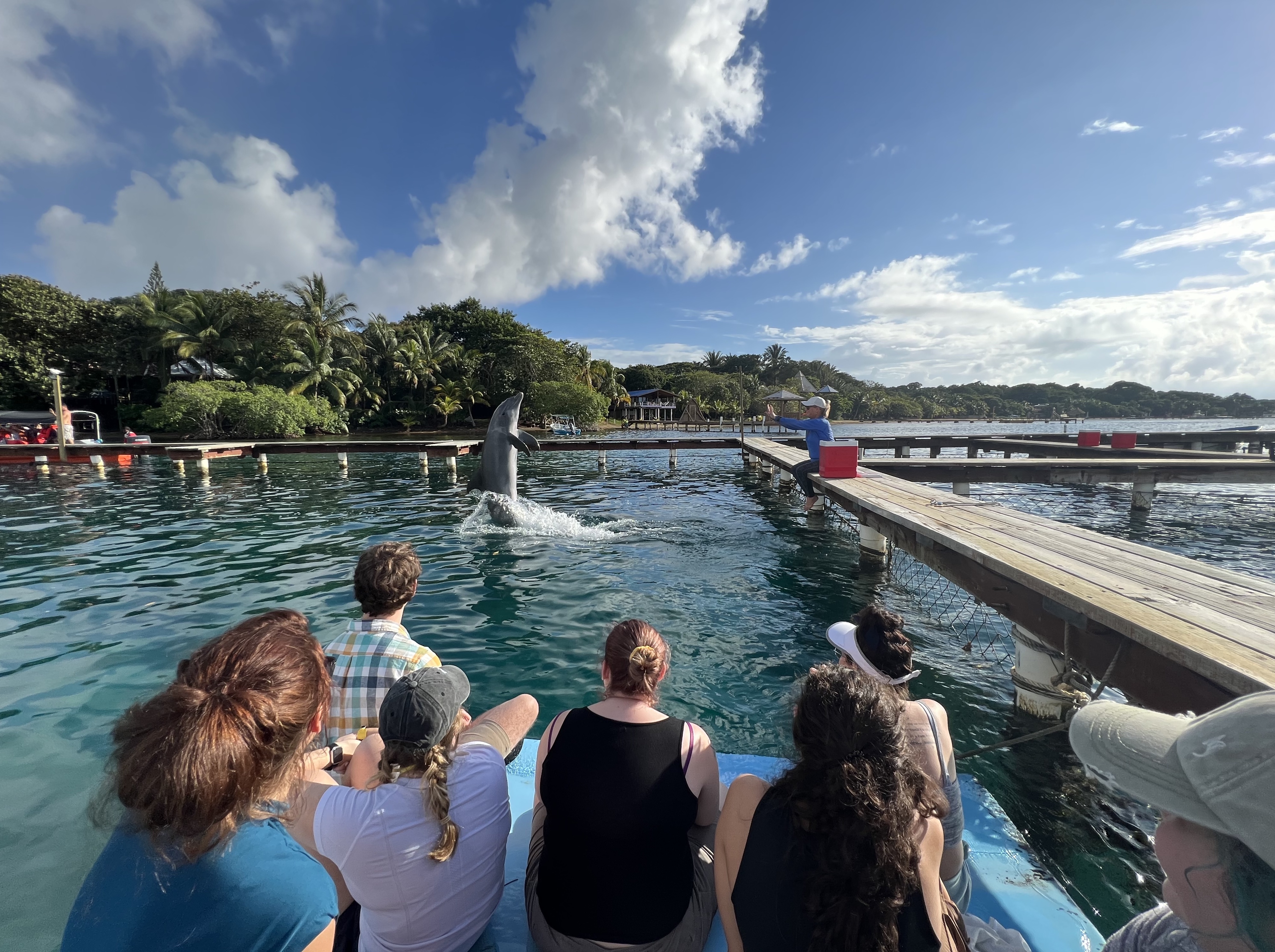 Caroline – Ronnie is a great conversation started and I loved being able to geek over learning about dive responses.
Elena – The sea turtle and dolphin training lectures were very fascinating and being able to spend some time with Calli and her calf (Woody) was very rewarding.
Sophia – learning about sea turtles, dive response, and how the dolphins were trained was fascinating. And it was even more fascinating to be up close and personal with the dolphins.
Laurel – Kanatous' lecture was a good refresher and I loved learning more about sea turtles and the efforts to protect them. And learning about dolphin training was the icing on the cake.
Bri – Despite the rain this afternoon, I had an amazing time learning about the training and meeting Elli and Gracie up close.
Katy – I feel very grateful to be able to learn from Teri, her presentation, and then to see her practically apply the theory was the most inspiring and amazing thing I've experienced.
Sofia – as a veterinarian, getting to learn about the incredible dolphin training behind every medical procedure was inspiring.
Nate – I enjoyed learning about dolphin training techniques and talking with Eldon about his experiences with RIMS.
Beck – I got some nice panorama shots in my phone during the space use data collection. And I also enjoyed the lectures on physiology and the sea turtles. I also enjoyed meeting Teri and learning about training.
Manon – the music is calling us to fiesta night.
Dr. Z. – Glad I had a half day off so I can enjoy the fiesta tonight.
Dr. K. – I was pleasantly surprised that Jennifer updated the turtle talk from them being "cold-blooded" to "ectotherms."
Blog wrap up from Dr. D: CSU's winning streak continues with Beck being crowned the Limbo King for the week! Woohoo!
Tomorrow will come soon!
Team Naturally Selected
here's a view of us writing out blog tonight: