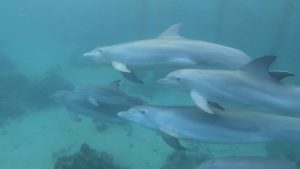 We spent LOTS of time in the water today. We had our dolphin encounter and swim – see our thoughts below! It was a blast for all of us! The afternoon was a presentation by Dr. K about our projects and water and a brief intro to physiology that we will continue tomorrow. The evening was our night snorkel – we saw many different fishes that are active at night including octopuses and lobster! Dinner was very welcome and we will all sleep well tonight!
Sophia – getting to swim with the dolphins was the coolest experience of my life. Particularly because I could recognize a few of them when in the water.
Nicole – Even though today was an exhausting day, snorkeling with the dolphins and the night snorkel made it all worth it.
Laurel – snorkeling with the dolphins today was the highlight for sure. But night snorkeling was incredible.
Elena – swimming with the dolphins was definitely something off my bucket list and was an amazing experience. And I'm super excited that I got to see an octopus during the night snorkel.
Bailey – Swimming with the dolphins was one of the coolest things I've ever done. It was really cool to see some of the behaviors we've learned about up close.
Sofia – Snorkeling among dolphins and their calves and getting to see an octopus and lionfish were absolutely unforgettable.
Katy – I can't believe I got to snorkel with 14 dolphins, a lionfish, three octopuses, a puffer fish, and trunk fish and a giant lobster (not all at the same time!).
Lindsey – Of all the things I've done in my life, swimming with dolphins was the coolest and night snorkeling was the scariest.
Peyton – I got to cross an item off my bucket list today but swimming with dolphins. And it is an experience I will certainly remember for the rest of my life.
Caroline – I got kissed by a dolphin – best day ever. Also, reminder, do not laugh while snorkeling.
Bri – I played pass the sea grass with Sandy the dolphin and I spotted three octopuses during our snorkel tonight. I still can't believe any of it was real.
Sia – Interacting with the dolphins today was so cool and my first time night snorkeling was a huge success.
Nate – Night snorkeling was a blast and seeing three octopuses was a memorable experience.
Dr. Z – swimming again with the dolphins was great even better than my first time. But as a professor, attending Shane's classes was incredible and inspiring.
Paige – It was magical swimming with the dolphins and I enjoyed riding in the boat during the night snorkel.
Manon – I'm grateful Gracie and Elli let their calves be so close to me.
Dr. K. – Never thought I would get the experience of swimming with French!
Until tomorrow,
Team Naturally Selected
Here is a photo of some of us with the CSU Rams Abroad flag!