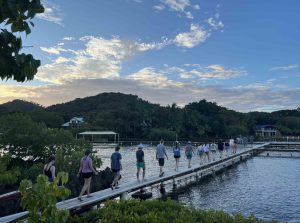 Our first full day at Anthony's Key Resort – and it began with dolphin observations. (In the cover photo, we are learning about the dock's flexibility!) Both French and Sandy were in leaping moods this morning! French even greeted the students with a spinning spy hop! Of course, we also saw the moms and calves; here, Bailey is with Calli and her calf.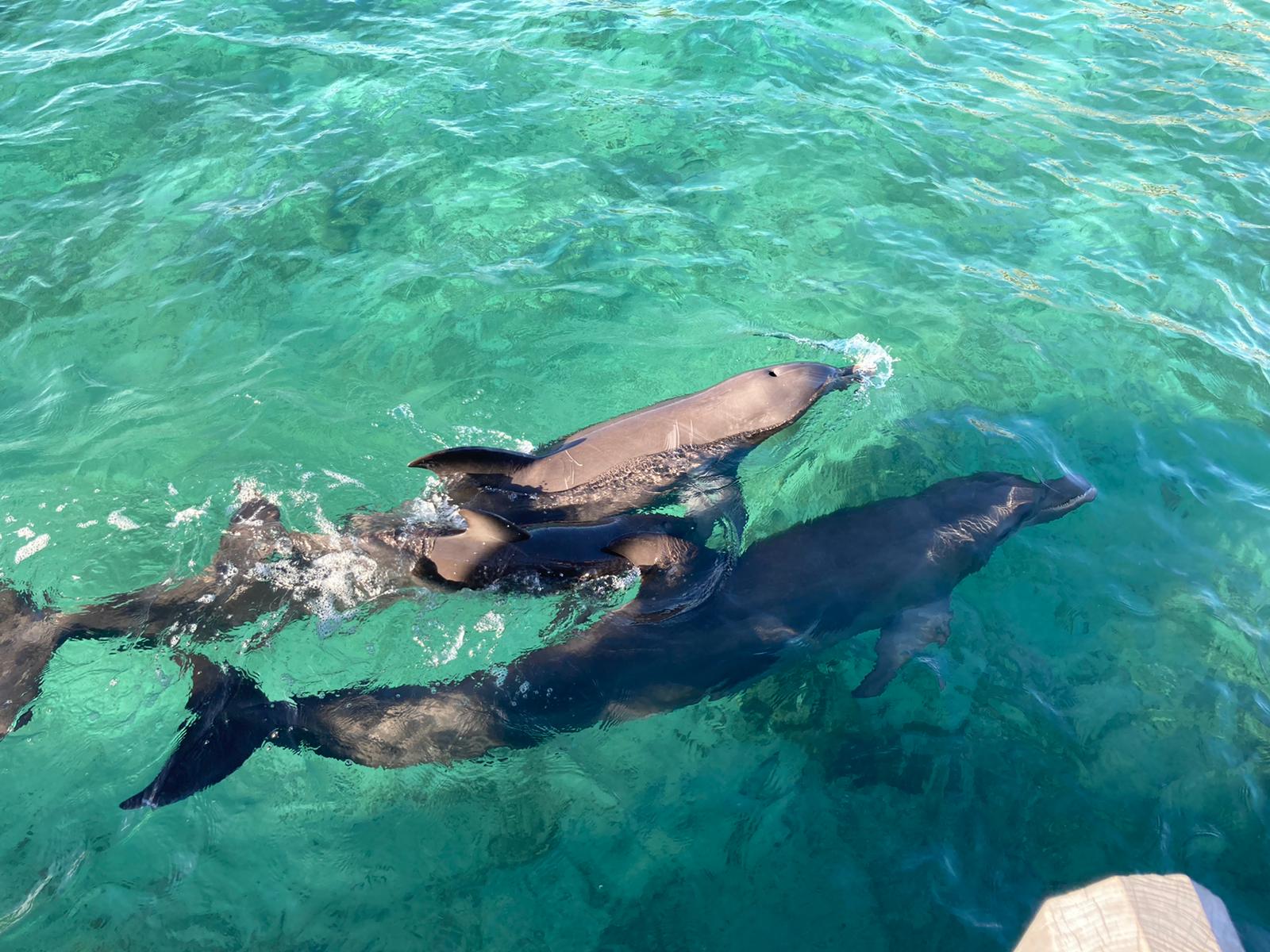 A hearty breakfast got us ready for a classroom session in which we learned about DCP's history and research, with RIMS and elsewhere. The afternoon gave us an introduction to the space use data that we will collect tomorrow and an afternoon snorkel session to the NE of Bailey's Key – there were many fish! And, we learned which fish were present at the Fish ID talk from Pete this evening. Our impressions of our first day are below.
Bri – Snorkeling was fun. I am very tired and I think fish are a lot more cool than I originally thought they were.
Nate – we had a very interesting presentation on the local fish species and we learned a lot.
Laurel – The island and surroundings are stunning. Getting to observe the dolphins in the morning was a unique experience.
Caroline – I loved being able to get experience observing and doing data collection of the dolphins and also successfully not falling off the dock into the water.
Nicole – it's crazy to see how much we can accomplish on the first day. And, the data observations we did today is something not a lot of people can say they've done.
Sophia – For as tired as I am, I am far more excited about learning more about the dolphins and some of the local wildlife.
Elena – it was a great experience being able to be so close to the dolphins this morning. My first time snorkeling did not go as bad as I expected … but man am I tired.
Lindsey – I am incredibly appreciative of the new experiences that were presented to me today. I'm excited for the rest of the week and all of the things that come with it. Also, staying hydrated will be lovely!
Tess – I never thought I would be this close to dolphins. I'm really excited for what's to come throughout the week.
Sia – The water was warmer than I expected it to be, which was nice. I loved seeing the variety of corals on the reef. And, I can't wait to go to bed.
Bailey – The lecture about identifying fish was very interesting and I'm hoping we'll be able to see more fish in upcoming days.
Sofia – Being on an island surrounding by dolphins, corals and pelicans has been one of the best experiences of my life so far.
Katy – I am really grateful to be here part of the CSU program and am glad to be here this week!
Peyton – I had a really great experience observing the dolphins and seeing how research is conducted. I've had a really good time getting to know everyone. And I look forward to spending the rest of the week here.
Beck – From studying the surface patterns of the dolphins in the morning to watching the swimming patterns of the barracuda in the afternoon, the day was packed with adventure, and I enjoyed every moment of it.
Paige – I'm sure my snorkeling partner was happy I did not have to hold her hand and she pointed out a lobster that I'd never seen before.
Dr. Z – I'm happy to be back and to find out that I can snorkel better than I thought.
Manon – I was glad by such greeting by dolphins this morning – I wasn't expecting so much breaching (wow – French!).
Dr. K – I hope today wasn't our only sunny day of the week!
Tomorrow is a hopeful visit to Maya Key, if the rain holds off.
Until then, we've selected our group name for the week:
Team Naturally Selected
P.S. here we are listening intently to the description of the surface observation data sheet.