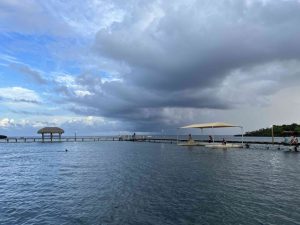 Today was a day of transition – CSU Group 1 departed for home while CSU Group 2 jetted south to Roatan. We also had two students from the University of Bologna Master Course in Large Marine Vertebrates (MCLMV) join us.
We had our last data collection session with group 1 and about 2/3 of the way through the session it poured rain! (See the cover photo for the rainy sky.) Kathleen did not notice as she was underwater but the rest of us ran for cover on to the platform or the palapa.
The group's last breakfast was hearty … to sustain them for their trek back to the USA and to prepare them for the potentially cold weather of Colorado! Here we are with our last group photo:
Of course, the group 2 students would travel most of the day on empty bellies only to enjoy a scrumptious dinner tonight!
Manon and Kathleen had about ½ hour of down time to prepare for the new group while Shane went to the airport with the first group to facilitate departure and to greet the arriving students. It went mostly seamlessly … with group 2 students arriving during daylight hours! Our orientation was late afternoon after which we took a quick water taxi ride to Bailey's Key to meet the dolphins. The dolphins were on their weekend, apparently, since no one came to greet us at the water taxi spot.
Dinner was delightful and welcome … especially after a day of travel. And, we think we look forward to starting at 6:15 AM tomorrow?!
Until then,
Kathleen, Manon, Shane & the CSU Rams Abroad 2022 group 2, and U of B's MCLMV