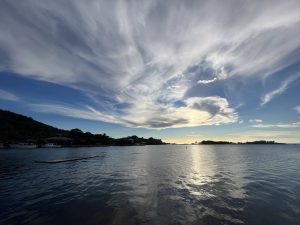 The bad news is that we are leaving. The good news is that we get to go home! It was another full, exciting day here at AKR. It began with our second-to-last data collection session on the dolphins at Bailey's Key. The underwater vis was not great and the dolphins were quiet, but it was still a good morning! After breakfast, we received a talk from Samir Galindo, General Manager and one of the proprietors of AKR. We learned a bit about the history of AKR, as well as their conservation and education programs. It was nice to learn that Samir was most proud of his team (staff). We agree – they are all friendly, helpful, and outgoing, with a ready smile and hearty laugh. After lunch, we had our covid tests to re-enter the USA (negative  ) and then finished chatting about our projects before returning to Baileys for another training session and observation of the three mom/calf pairs. Here are our impressions:
Aly – this trip has been absolutely amazing. I not only got to learn about different aspects of dolphins and aquatic invertebrates but also about what it means to be a scientist and I want to say thank you to my mom and dad for helping me get into this program.
Catie – today was bittersweet because tomorrow we have to leave but I'm very grateful for the memories I'm taking back to Colorado.
Jewel – I am very grateful that I had the opportunity to come on this trip. It really changed my perspective on a lot of things and I was able to make a bunch of new friends!
Mica – watching the new calves play together and paddle-boarding the bay was the perfect way to round out the trip.
Brooke – this has easily been one of the best experiences I've had. Not only did I learn and retain way more information than I thought I would, I also increased my love for the ocean even more. I'm excited to go snorkeling again.
Andrea – this trip has been amazing and it was really a once in a lifetime opportunity for me. I had so many firsts and it was so amazing.
Cassie – this trip has been amazing. I have learned so much about marine life and ecosystems and some very important life lessons, including that limbo contests are not for me.
Camille – I feel very blessed to have met so many wonderful people on this trip. And, I'm very proud to have such and intelligent and driven aunt.
Jess – today was the best last day that I could have asked for. I am incredibly grateful for all the opportunities. It was a really great time.
Mai – I feel privileged to have been given the opportunity to take a look into the life of a researcher and experience it alongside some of the greatest peers I've had so far.
Paige – I feel very honored to have had the opportunity to go on this trip. The info swirling around in my brain will help me in the future and the people I have met here I hope to see around campus.
Robert – I could not have asked for a better classroom this week. I am so grateful for this opportunity and for everyone who made it happen.
Amindra – I really appreciated how every dinner kept getting louder and louder because everyone kept talking to each other.
Alexis – I really enjoyed all the experiences and opportunities to see and learn to do new things and to meet new people during the trip.
Dallas – I really enjoyed watching the calf pairs and really enjoyed getting to see Calli's personality come through when we were watching her have a meal.
We have one last data collection session tomorrow – no sleeping in on this program!
Until then,
DCP & the CSU Rams Abroad 2022 group 1