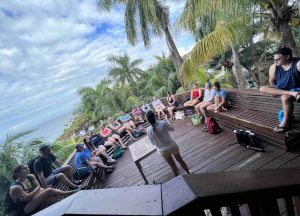 Today was a full day of activities! We started the day with dolphin data collection followed by breakfast and then a talk about acoustics. But the next morning activity was the best – we had our dolphin encounter and swim! Half of us met Tilly and Carl and the other half met Maury and Kenly.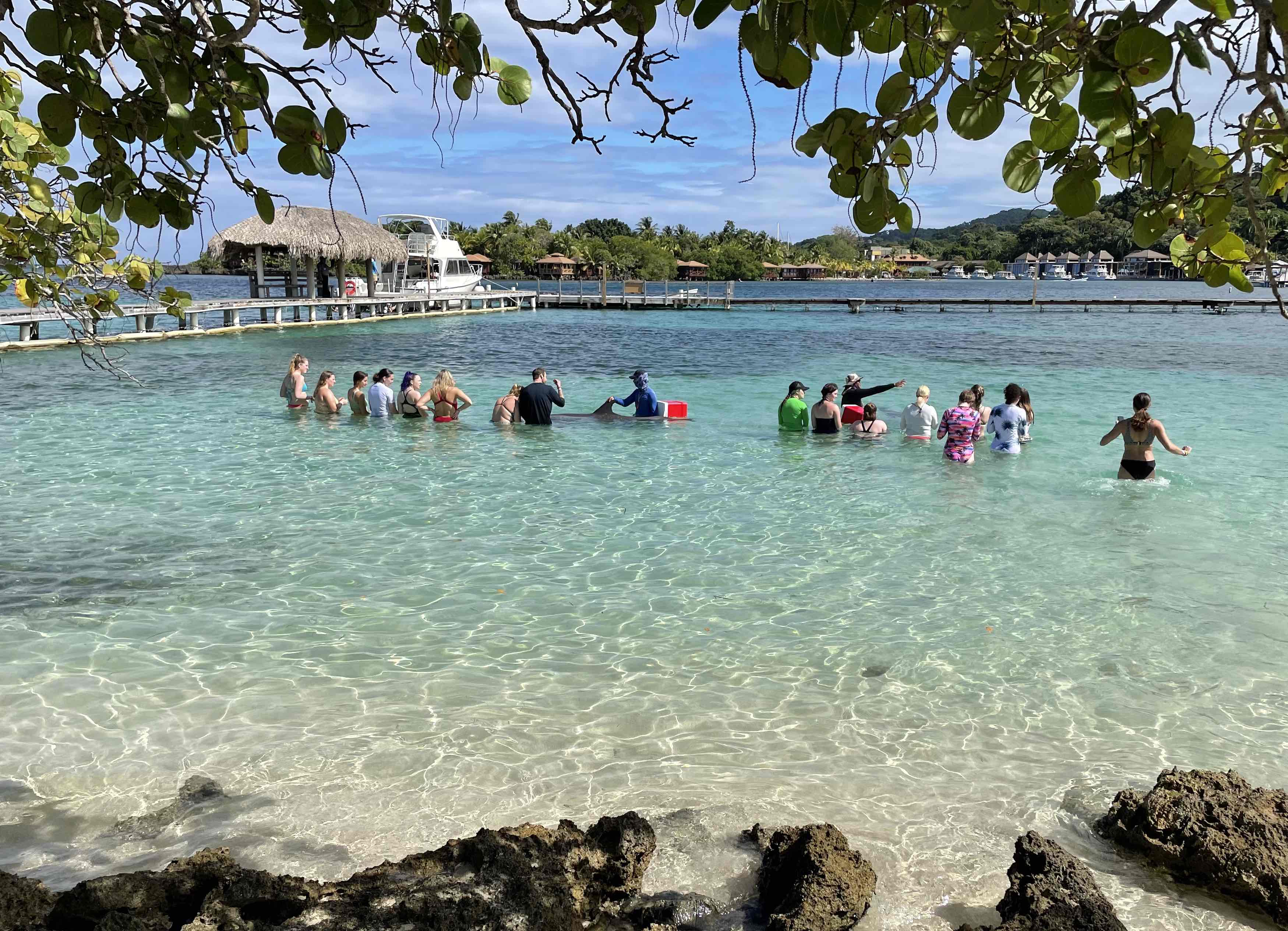 The swim provided much dolphin play and good underwater visibility. Lunch was a delicious feast! We then listened to Jennifer tell us about coral reef restoration and the coral nursery they have here off AKR. After hearing about restoring the corals, we then went snorkeling on the newest mooring ball and named reef – Nelson's Nest. It was filled with life and afforded depths from about 6-8 ft to about 40 ft. Our impressions follow:
Andrea – my favorite part of the day was getting the bracelet from Ron because it's so pretty and if my hair were still long I'd braid it into my hair.
Jewel – I can officially say I've been pooped on by a dolphin and that I played fetch with seagrass with a dolphin.
Brooke – Today was definitely my favorite day. I loved being able to interact and play with the dolphins up close and my life is forever better knowing I can dive deeper than 4 feet down.
Mica – Diving over a deeper reef was stunning and made me realize I need to get more into free diving.
Aly – when I was little I knew I wanted to be a zoologist and no one thought to warn me about the number of dolphin penises I would see.
Catie – I can finally cross swimming with dolphins off my bucket list. I'll do it again.
Camille – I really liked seeing the younger trainers interacting with their specific dolphins because you could tell how strong the relationship was between them and how much care the trainer felt for the dolphin.
Amindra – I thought it was super confusing when we were swimming with the dolphins that I could hear them every where but I could not see anybody.
Mai – I always thought that swimming in deep ocean water would be terrifying. But it turns out it's one of the coolest things I've done so far.
Alexis – I found the dolphin snorkel really fun and interesting even though they tried to avoid us at all costs.
Paige – the highlight of the day was definitely snorkeling with the dolphins. But I also enjoyed the coral restoration talk and then going to see one of the biggest reefs I've seen so far.
Robert – The dolphin encounter and swim exceeded my expectations. It was a very personal experience that allowed us to get to know the animals even better.
Cassie – the deep-water snorkel was absolutely breath taking and it felt like being transported to another world. However, I wish someone had reminded me beforehand that I can release the pressure in my ears to go deeper.
Dallas – I enjoyed swimming with Elli and her calf as she kept bringing her calf over to me and letting the calf swim between her and me. I also enjoyed seeing all the juvenile glitter fish and seeing them sparkle.
Manon – The swim was amazing with a lot of sea grass play and rub down. But the surprise of the day was the visit of a spotted eagle ray on the reef right under me!
Ron – I'm very blessed having met Kathleen 28 years ago because it led me to meeting Shane and his willingness to accept me into my second CSU field trip and it made for a very special week and day.
Dr. K. – Ron can come on any CSU field trip he wants to and I think the students will attest to that (Yes – for sure, said students.)
The late afternoon had us meeting with Dr. K and Dr. D. to discuss our research projects or PSAs.
And dinner was wrapped up with a Happy Birthday song for Ron and a yummy chocolate cake! (see below)
Tomorrow is our last full day at AKR.
Until then,
DCP & the CSU Rams Abroad 2022 group 1