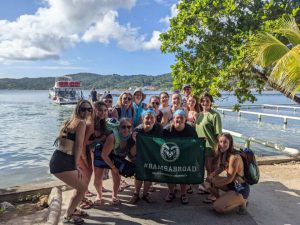 After our second dolphin observation session, we had a yummy breakfast and then a brief informal discussion about sampling protocols. Then, we boarded a shuttle bus followed by a boat for a trip to Maya Key. The island is part of AKR and has rescue/rehabilitated animals. Check out our group shot with the CSU Rams Abroad flag! Here are our impressions of the day.
Catie – the best part of the day was going snorkeling and being able to ID the fish from the fish ID lecture.
Jewel – I enjoyed seeing all the different animals today – especially the monkeys and sea lion and the honey badger. I also feel like I had a lot of laughs today, which is a good thing.
Brooke – I really loved getting to snorkel and really enjoyed the really clear waters, even the deeper water and I could still see the bottom. And, being able to identify the fish to their correct names was really cool.
Cassie – it was really cool snorkeling, but it was super crazy to see just how deep it got so fast. That's a perspective I've never had while snorkeling before.
Aly – I really enjoyed seeing the wild agoutis on Maya Key because I've never seen those before let alone in the wild.
Andrea – I really enjoyed seeing all the wild lizards today and watching the Maya staff employee feeding them the uneaten fish.
Camille – I got to see a glitter fish when I was snorkeling. And the boat ride to and from the island was breath-taking.
Mica – I found it interesting to watch the dolphin's pec slaps and learn that after all the research there are still unexplained behaviors.
Amindra – I thought it was really fun while we were at Maya Key that I said hello to a parrot (a scarlet macaw) and it said hello back.
Paige – my favorite part of the day was snorkeling and seeing the drop off – I felt like I was in Finding Nemo. I kept following a fish and getting slightly separated from the group, but I always made my way back.
Mai – I am honored that Robert and I were able to feed the blind sea lion. But my hands still smell like fish.
Robert – it was great to see the dolphins again this morning and practice a new observation technique. I also enjoyed meeting and feeding a blind sea lion.
Alexis – I really enjoyed how active the dolphins were this morning and look forward to recognizing which is which during observations.
Dallas – I also liked learning about the different ways to study the dolphins and collect data. Communicating with the sea lions was a highlight of my day as was when a capuchin monkey wrapped its tail around my drink. When I realized the tail was there, I moved my beverage.
Jess – while I enjoyed getting to interact with the native plants and animals on Maya Key, I have more bug bites than I have ever had on my body in my life. And now I think to the tune of the Dolphin Species Song*.
Ron – I have two: it was a good start to the day when I witnessed a pair of dolphins startling Mai when they splashed her. She jumped higher than the dolphins! Second, I was in awe of the scarlet macaws at Maya Key.
Manon – I have never seen such a very fat mountain kitty (i.e., puma).
Here's a shot of everyone at the end of the snorkel!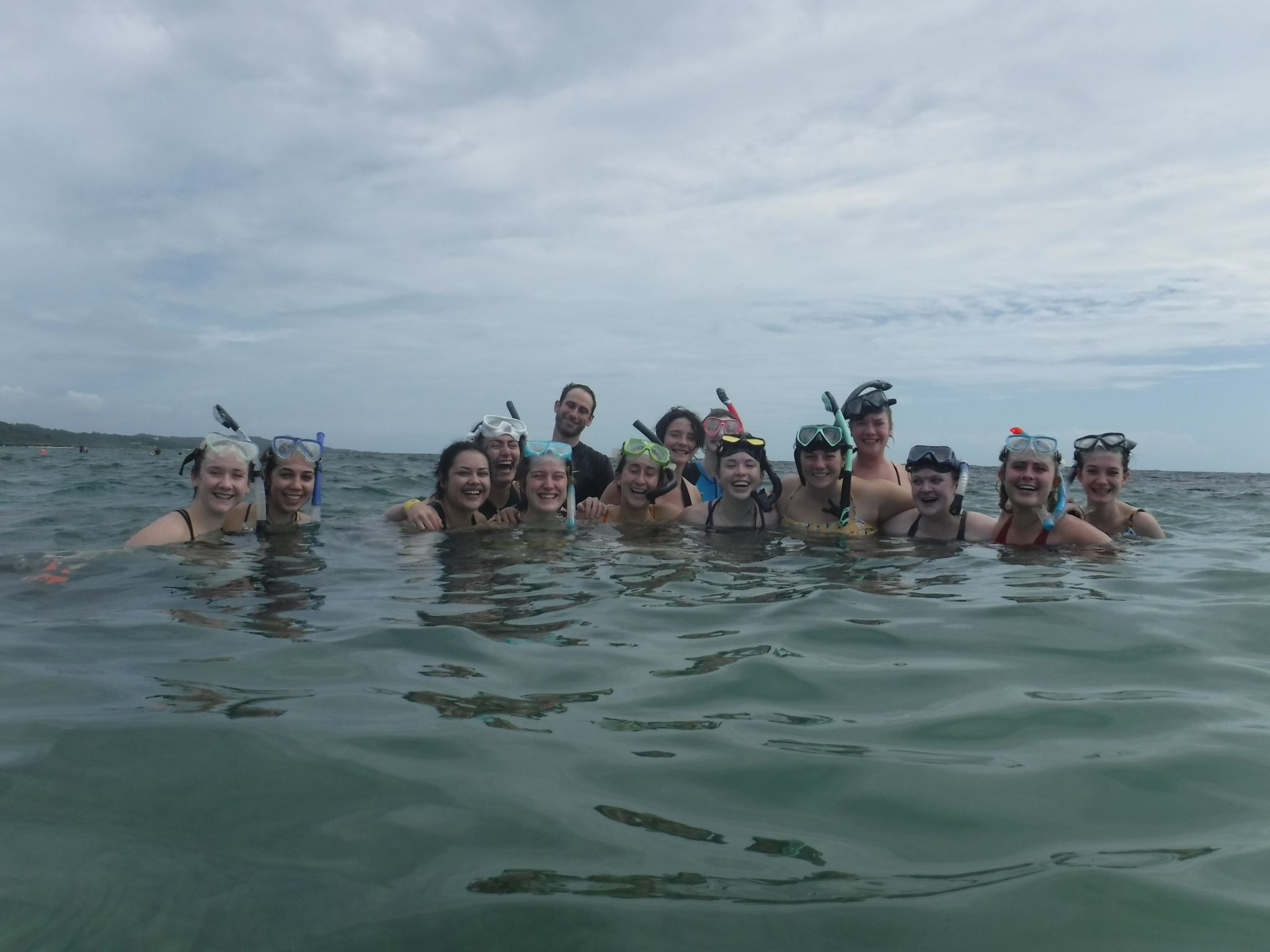 Our day wrapped with a discussion about space use data collection and activity levels for dolphin behaviors from the surface. We watched today's video before dinner.
Until tomorrow,
DCP & the CSU Rams Abroad 2022 group 1
* In Kathleen's talk on Sunday, she ended with the Dolphin Species Song to introduce all students to the names of the different species of dolphins. Justin Gregg created this ditty (check out the DCP website for the full song!). Dr. K challenged the group that if any one of the students could memorize the song in 24 hrs, then they could choose an extra credit option for the course. In less than 24 hrs, Jess met (exceeded) the challenge! While waiting for the ride back from Bailey's Key, Jess regaled us with her rendition of the Dolphin Species Song and requested 5 extra credit points for each student! Woohoo!