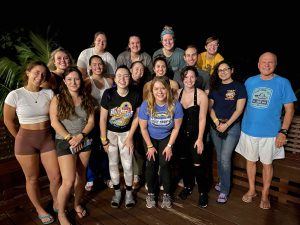 Before we go any further … we are mostly all here!
The group from Miami arrived early afternoon (on time, with no delay, and a smooth flight) and got to Anthony's Key Resort to settle in and get the data collection gear ready.
The group from Denver, on the other hand, had some delays. The first snowstorm of the season and the year (2022!) caused about a 3-hour delay! Shane and the students have the distinction of being the first DCP group ever to land at night on Roatan! They arrived and came straight to the dining room and breathed a sigh of collective relief! You can see their smiles in this first group photo taken outside the dining room on the balcony overlooking the two islands. Difficult to see in the dark, so their first full view of the resort will be in the morning on our way to Bailey's Key to do out first observations of the dolphins. Did I mention we start tomorrow at 6:15 AM?!
Happy New Year's Day and here's to a great start to 2022!
Cheers
Kathleen, Manon, Ron, Shane, Camille, Robert, Jewel, Mica, Mai, Paige, Jessie, Aly, Brooke, Andrea, Cassie, Amindra, Catie, Dallas