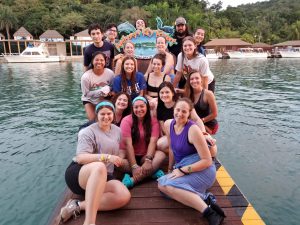 Our last AM data collection session was filled with many exciting interactions and all kinds of switch-a-roos – between adult females and calves and young dolphins playing amongst themselves! After a fortifying breakfast, we returned to Bailey's Key to meet Maury and Poli during our encounters, and then to swim with the dolphins! The swim was amazing!! It was a lot of group swimming, some speed swims, lots of interest by Poli and Sandy in several of us. There was also some rough housing between Rocky and Buzz. Our afternoon was our daytime boat snorkel, or a shore snorkel, or some kayaking … below are our individual impressions:
Mary – Today I learned that the dolphins and I share a very happy and playful attitude when I was able to engage in play with them.
Brie – Seeing the dolphins up close was my favorite part of the day. Also, hearing about sea turtles fascinated me even more because I love sea turtles.
Karla – Drift snorkeling, swimming with dolphins, getting licked by a dolphin, and making memories with my new friends was a great way to end the week. I will forever be grateful for everything I learned this week, especially the new perspectives.
Riley – Today, I made a new friend. Poli, you can eat my fins any day.
Santi – At the end of my Roatan journey, Poli gifted me with a rock, a symbol of all the things I learned and experienced along the way, and I will carry all these things with me into the future.
Leo – Before this trip I was honestly considering maybe changing my minor or major due to a slump that I had been experiencing. While I was wondering what would be a better fit for me, I came to Roatan, made bonds I will never forget and fostered a new love for marine life that I hope will carry me on into my future endeavors.
Cidney – I can confirm that coral is cooler with dolphins!
Celli – Playing with Poli during the snorkel is an experience I will never forget. And, I'm happy to have experienced it with everybody.
Nicole – I'm sad that our week in Roatan is coming to an end. But I'm grateful for the experiences and knowledge I have gained with my rattler cudas. Also, Maury licked me during our encounter!
Andrew – I almost collided head-on with a charging dolphin today. It was really fun! I feel very fortunate that I got to be here for the week. And I feel fortunate to have made all my new friends.
Diego – dolphin shave such a unique texture. It was amazing to have dolphins swimming among us!
Irene – It was sad to see the dolphins for the last time in person today. However, it was surreal to interact with them after learning so much about them this week.
Rebekah – I have never been an animal person but this trip has changed me. Through observations, lectures, and swimming with dolphins, I've learned a lot and can't wait for something like this again.
Mia – Swimming with the dolphins was incredible but it's terrifying when they all come at you at once.
Dr. K – I am very thankful that we are able to give the students this experience. I hope they look back on it for years to come as a life-changing trip.
Dr. H. – ditto to Dr. K.
We travel home tomorrow … here's to a good night sleep and a smooth travel day tomorrow.
cheers,
Kathleen and the "self-renamed" group: The "oooooo – Rattler 'Cudas"