This morning was a quiet session for the dolphins – lots of pair swims and low activity levels. But, the visibility was good and we were able to see the mother/calf pairs in group swims. After a yummy breakfast, we spent the morning identifying animals that live in the inter-tidal zones around Anthony's Key. There were crabs, urchins, chitons, and more. Late morning had us entering our space use data and confirming GIS positioning from the panoramic photos. This is a new method but should help us examine how dolphins are using their space in the main lagoon. The afternoon saw us observing training sessions – e.g., Maury encouraging her son, Rocky to gate, and collecting a bit more space use data associated with the training session. Here are Tilly and Sandy checking Kathleen out …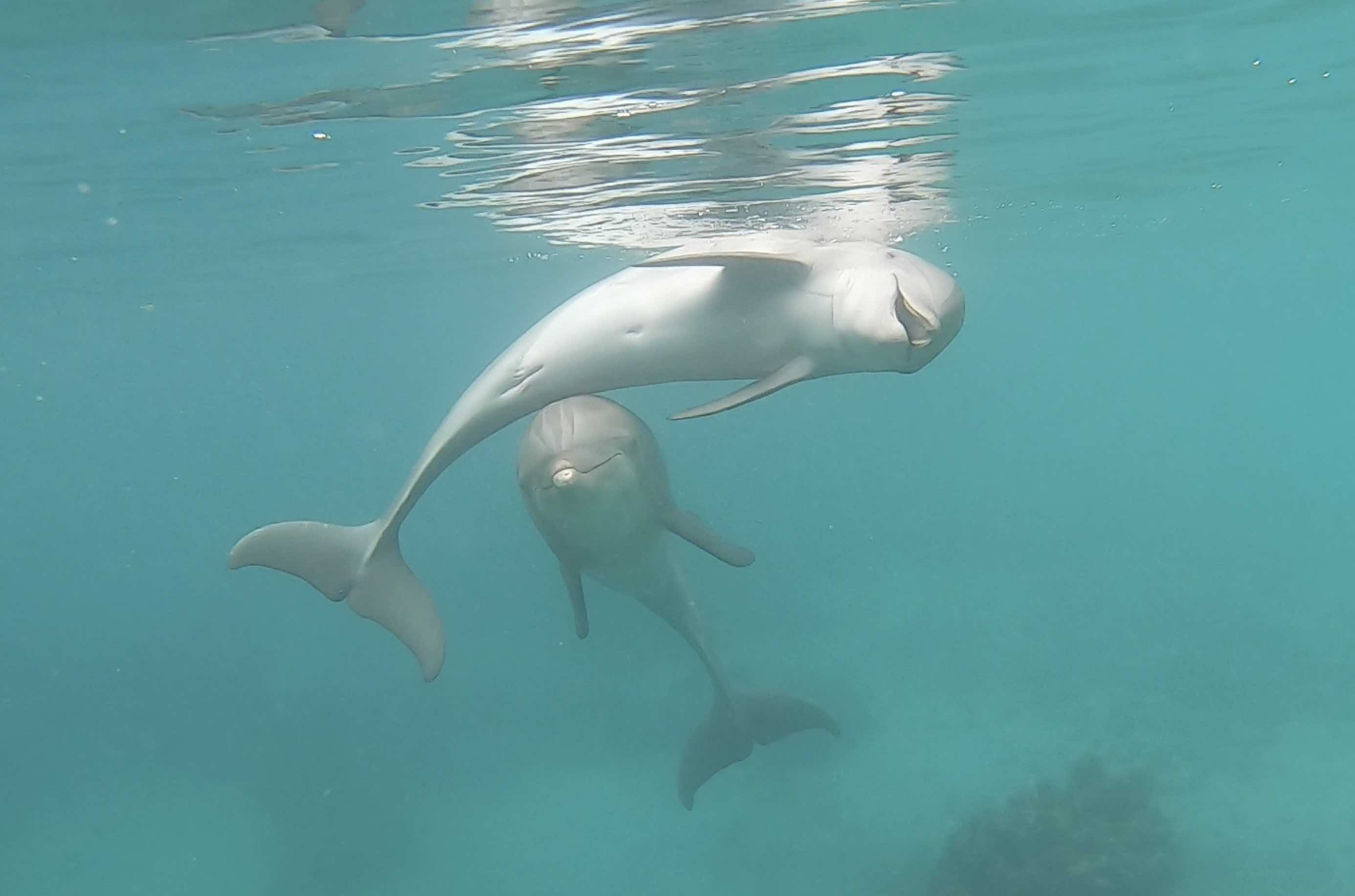 And, we had our first boat snorkel of the week that was also our first night snorkel. The night sky was brilliant with stars on the short ride back to AKR. Here are our impressions of the day:
Brie – The gate training session with Maury and Rocky really made me excited for our encounter in a couple of days, and our night snorkel was amazing.
Mary – Snorkeling, especially night snorkeling, was something that I never thought I would voluntarily do but it turned out to be one of the coolest experiences of my life.
Karla – I really enjoyed the data entry and seeing how everyone takes the notes differently. The training session with Teri (trainer) was really nice and I really appreciated her explanation of what she was doing.
Riley – I liked going into the darkness while Cidney was shining around the flashlight underwater and then finding each other again.
Santi – I appreciated the "eustress" generated by swimming over a stingray during the night snorkel!
Leo – I thought that when a light was flashed over the fry fish in the water it was quite the contrast between them and the stars in the night sky that seemed only a few inches above you.
Cidney – I felt thankful for Riley when I started swimming toward the wrong boat during the night snorkel.
Celli – Everything about the night snorkel blew my expectations and it makes me happy that everyone is saying they never thought they'd do it but they really enjoyed it!
Nicole – I loved seeing the training session take place with Maury and Rocky when the trainer was teaching Rocky how to gate. Maury herded Rocky through the gate and seemed to reassure him about the gate.
Andrew – I've always really liked rays and it was really really cool to see one. It freaked me out a little bit but I knew it would be ok.
Diego – I enjoyed the night snorkel a lot. It was cool to see how camouflaged porcupine fish are with the sea grass.
Rebekah – The night snorkel was freaking awesome and I'm glad I had Celli to point out the fish. And, the training session with the dolphins was cute.
Irene – I enjoy the bonds that are being built here at AKR on Roatan. It's heartwarming because we didn't really know each other before this trip.
Mia – I didn't know that porcupine fish could be so huge, thank you night snorkel for educating me.
Tomorrow will arrive sooner that we expect and will bring us another full day of activities!
Until then, cheers
Kathleen and the "self-renamed" group: The "oooooo – Rattler 'Cudas"