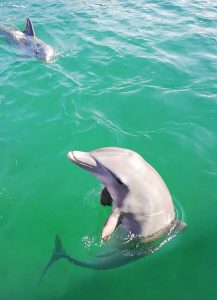 This morning, surprise! We collected data with Kathleen's observations. The dolphins were a bit more active this morning compared to yesterday. We saw some breaching. And Bailey did a weird curved posture for Laura (see cover photo) while Stan did a "fluke-stand" for her. (Thank you, Laura).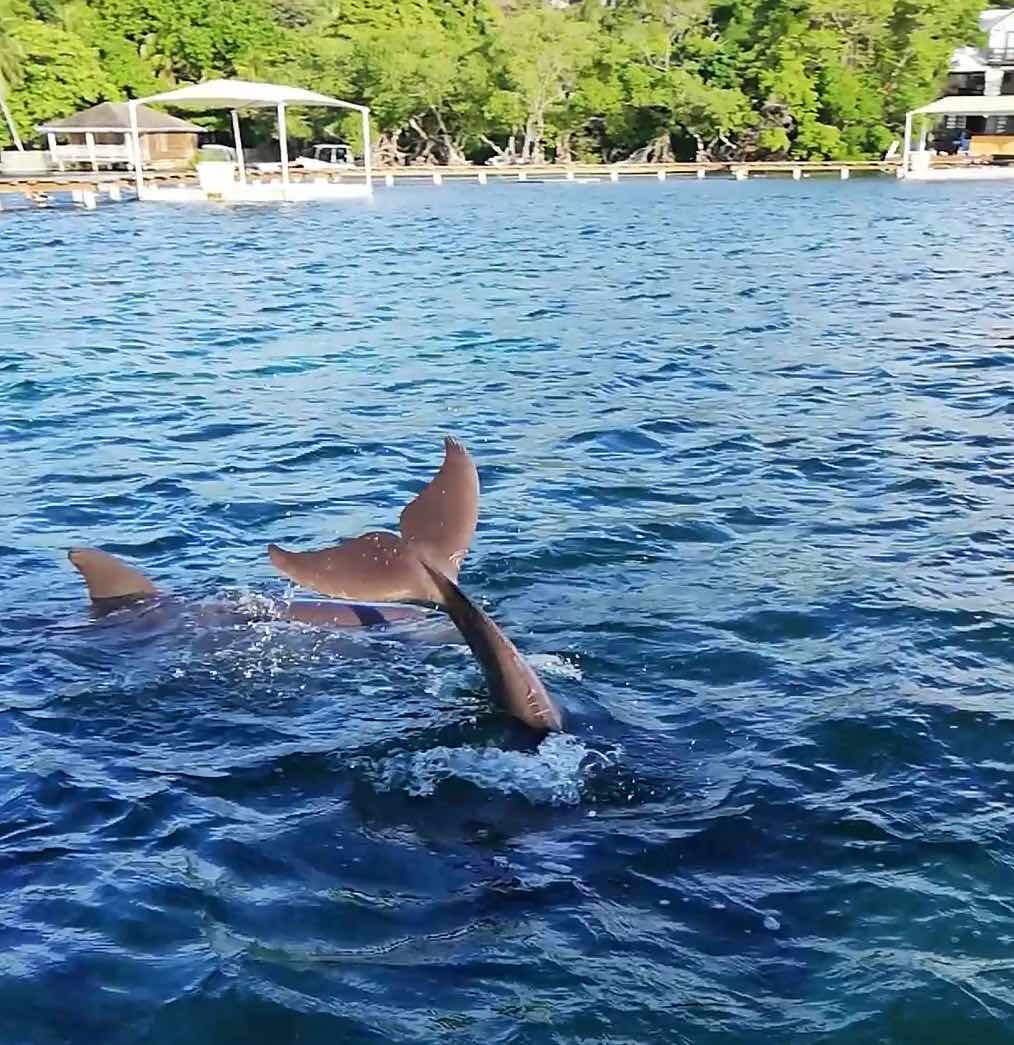 The weather was better with sunshine and a slight breeze. Sometimes the dolphins were chasing each other at the surface. And, several dolphins paid a visit to platform 1 to try to entice us to play … away from our observations. The space use data collection is much more easy to collect than when we began and the scans don't feel as rushed any more.
Here, Sonja, Alessandro, and Victor conduct a space use scan from the Palapa.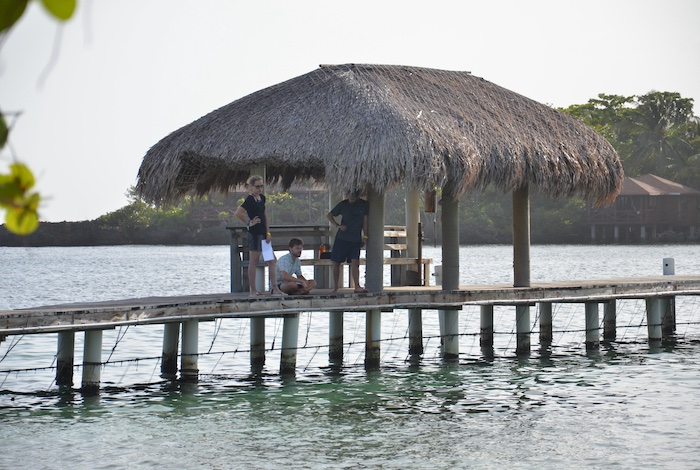 After data collection, we stopped by our rooms to collect our gear.
We came back for a quick breakfast before two snorkels from the boat. On the snorkels, some of us were lucky and saw a squid, stingray, lionfish, triggerfish, damsel fish, fairy basslets, sergeant majors, wrasse, and barracuda. We also saw grouper and parrot fish. They were two good snorkels – the first was off Man-o-war key and the second was off the reef closer to AKR.
The reef looked beautiful from the surface – thanks Manon for sharing this photo!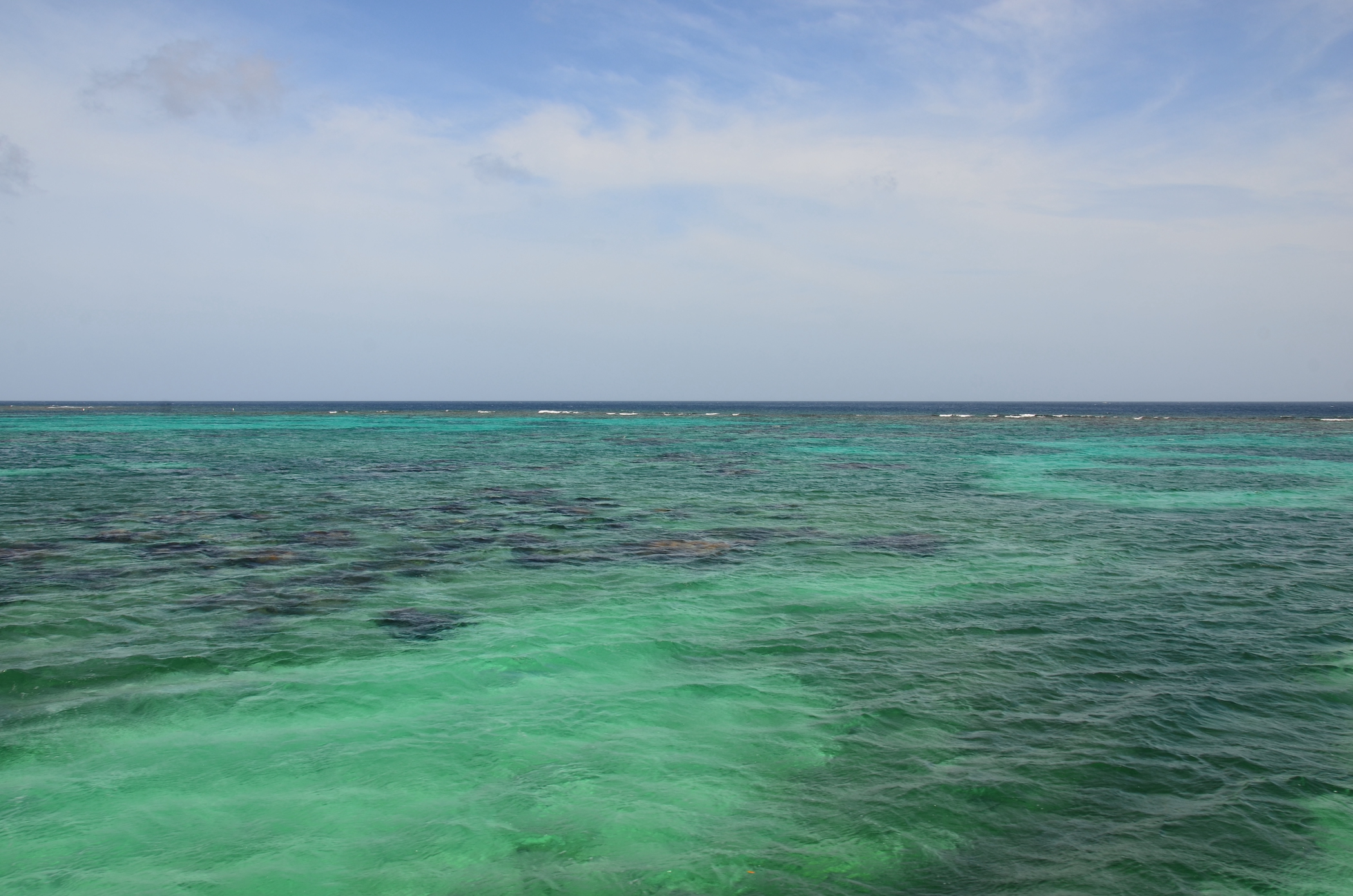 After lunch we had a talk from Jen on coral restoration. Some of us might try to snorkel out to the coral "Christmas trees" tomorrow to take a look at them. The talk was interesting and it was informative to learn how we might actually be able to protect the reefs and encourage new growth.
We watched the morning video and saw Lenca, Stan and Tank pay way too much attention to Kathleen's fins. We will have a couple of hours "off" before our night snorkel.
The night snorkel presented us with "cold" water! But, we saw a big puffer fish, an octopus, a couple of lobsters, and other nighttime critters. The animals made the cold water worth it!
After dinner, we saw a spotted eagle ray adjacent to the water taxi stand. A great day!
Cheers
The UofB stvslmv group