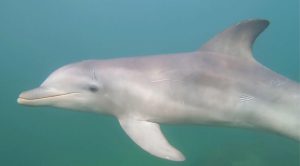 We did our morning observations and data collection. No sunrise this morning but a cloudy day and windy. And the dolphins were quiet, sleeping it seemed – maybe like a hangover in humans.
After breakfast, we prepared ourselves to get ready for our encounter and snorkel with the dolphins. We had more than Bailey during our encounter – French and Tilly were chasing each other and trying to swim between us. Tilly seemed to be hiding behind our legs watching for French. And Bailey was also keeping an eye on Tank because he seemed to be half-interested in his encounter program. When Bailey and Tank did behaviors together, Tank seemed distracted but came around to Bailey. Not all of us had our pictures taken with Bailey … but there were four of us who did document our meeting with Bailey.
Here is Marica and Bailey
And, Shannon and Bailey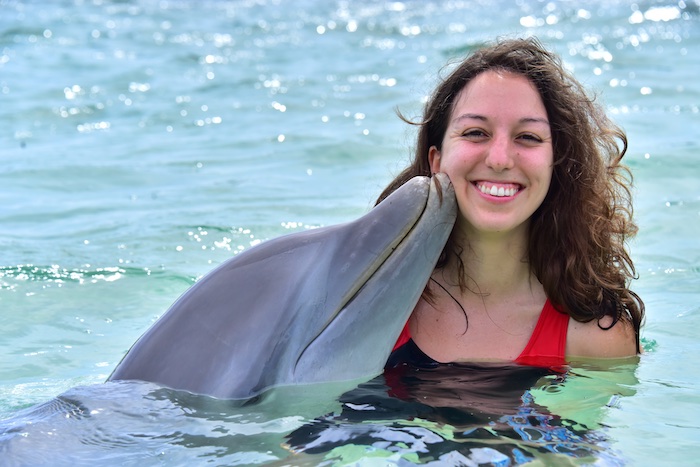 And Sonja and Bailey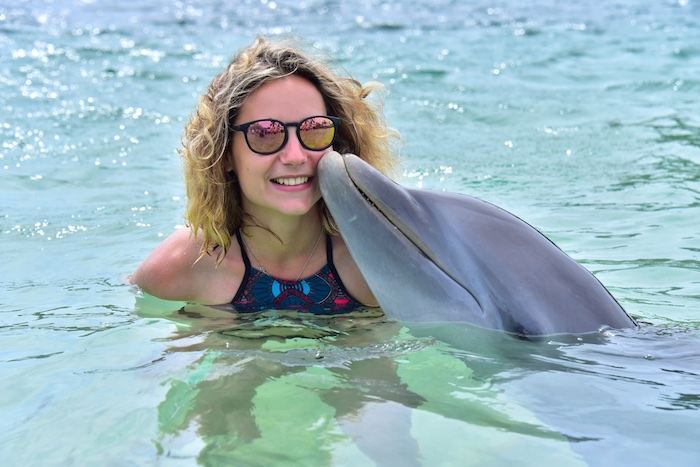 When the dolphin kisses you on the cheek, we did not realize how much pressure they exerted – See Davide with Bailey to get an idea!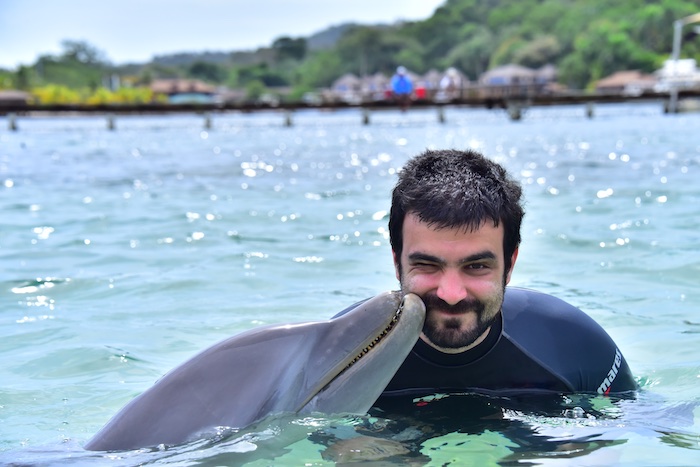 Our swim followed the encounter. Annalisa did not expect to be able to hear them before seeing them in the water. Shannon did not realize that they could be constantly vocalizing. Laura kept hearing the sound get louder and then started when she realized the dolphin was right behind her! Sonja did not even realize that Sandy leaped just behind her. And all of us had 2-3-4 dolphins zip around us and leap near us and we were amazed that they did not touch us or hit us. Shannon had a great sea grass game with Calli and another dolphin. Sandy mouthed several of our fins and seemed to like Riccardo's white fins especially.
After the swim, we stayed at Bailey's Key to test out the MVA – outside to the north of the main lagoon area. It was easier and light than it looks to swim with the MVA.
Lunch was a welcome reward for a day spent in the water. And, at lunch a few of us could have easily slept at the table. So, after lunch we took a bit of a chill-out on the small Anthony's Key beach … to bask in the sun and catch a power nap before heading to the RIMS classroom for a sea turtle lecture and more details about the PSP study by Manon and Kathleen.
Our lesson on sea turtles was good – a nice recap on some of the topics we had during our large marine vertebrate lectures. Then, we had a presentation by Manon about PSP (pair swim position) that was interesting … to learn about the different positions that dolphins will assume when swimming with others.
Here we listen intently!

Then we watched the video from the morning. And, we will wrap up this field report now so we can head to the fiesta night to enjoy ribs, limbo, and Garifuna dancers.
Cheers
The UofB stvslmv group
P.S. here are two photos from yesterday's space use data collection observations!