We woke up and prepared to collect morning surface observations and space use data from 6 am; actually, we took the water taxi at 6 am to Bailey's Key. The dolphins were having weird zoomies across the lagoon. They were giving us a private show – there were numerous leaps and breaches and lots of vocal behavior. This was a small group near the palapa socializing (Thank you, Davide).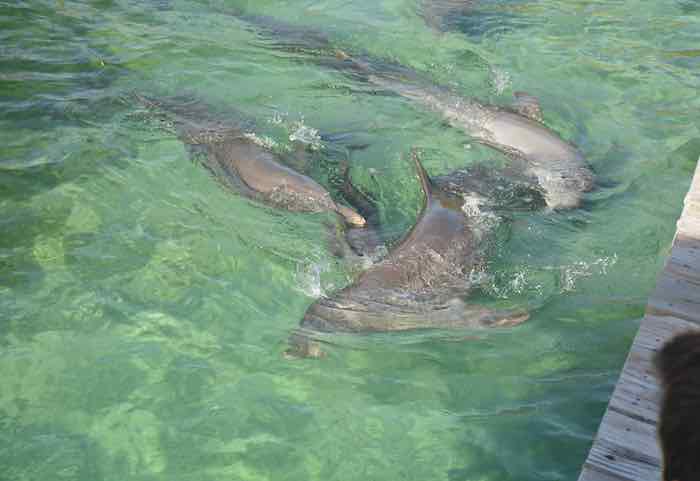 We are still working on our data collection techniques.
After breakfast, we had a class to learn about the DCP history and current research projects. We spent a couple of hours in the RIMS classroom and some of us were chilly while others were warm. We also watched this morning's video and learned more about the individual ID marks and scars and tried to recognize the individual dolphins. It's gonna take a while to recognize all of them! We also compared the differences between underwater and surface observations and the details we could get from each vantage point. And, we discussed the differences between kin and non-kin behaviors and interactions.
Lunch was followed by a snorkel to a reef off West End. The reef was filled with fish but we hope to see the turtles on our next outing. Still, we saw a puffer fish and a barracuda. We saw the queen angel fish, triggerfish, and a few schools of blue tang. And we saw a black durgeon. There were also lots of scuba divers below us. We shared the reef and played with their bubbles. The trip back was uneventful.
We spent some time over at Bailey's watching and trying to identify the dolphins. We hung out with the dolphins and Rocky was quite talkative. It was a nice way to spend an hour or two this afternoon before supper.
As we write this blog in the lobby, we had a tangent to look at some still photos of the dolphins to try our hand at recognizing them. We have a bit of work to do! And, we have a live music background keeping us dancing in our seats.
Cheers
The UofB small terrestrial vertebrates studying large marine vertebrates (stvslmv) group
P.S. the bat species is Artibeus jamaicensis. See last night's blog for the photo of this species. And, they are multiplying as we have 1-2 at a few rooms in the eves.