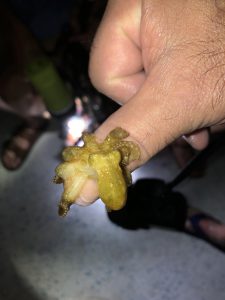 We finally did both the surface observations and the space use data collection during Kathleen's morning session. We felt more comfortable with the whole process. Standing on the finger dock, Marc saw more activity underwater and it was much easier to see into the water and across the lagoon when standing rather than sitting on the docks. The dolphins were active but not doing lots above the water or at the surface. There were some speed swims and pec slaps and tail slaps. There was also quite a lot of pair swims and much rolling over each other.
Breakfast was welcome – it's the most important meal of the day! And it was delicious.
Then we went to the classroom for Kathleen's presentation about communication. It was interesting to learn the nuances related to language and communication and that they are not the same. Kirsten noted that she did not know dolphins could not smell, though they have a sense of taste.
We had a bit of a break and then lunch and then the afternoon started with a talk by Jennifer, RIMS Education Director, about sea turtles. The sea turtle conservation information was fascinating and we learned more about natal homing and that beaches that might not have been used could be rehabilitated for sea turtles by moving nests and replacing their natal beach with a new beach. We learned also about the different species of turtles and their nesting, hatching and migratory patterns as they grow.
After the sea turtle talk, we watched the morning data video session. We shared this video with the RIMS interns and shared ID confirmation from the video of the dolphins. (CSU did great!)
We had about an hour and a half to prepare for our very FIRST night snorkel. We saw a puffer fish, a lionfish, several lobsters, a big octopus. And, Shane rescued an old iron that we learned after the fact had been a new home to two tiny octopuses. The cover photo is the octopus on Shane's thumb before we returned it to the sea. (Thank you, Kirsten, for the photo!) It clung to Shane's thumb before we were able to say bye.
Dinner was awesome and we were able to share stories and recap the day.
Tomorrow promises to be another great day!
Cheers
Dr. Kanatous' Kindergartners (aka Roatan Rams 2021)