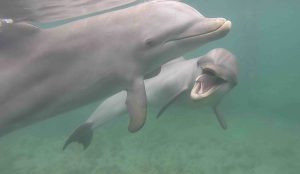 Our second to last day of research and observations was full! We collected MVA data this morning. We had several create sessions with Teri and Maury, Tilly, Gracie, Bailey, Callie, Elli, and Poli throughout the day. And, throughout the week we've confirmed the revised details for collecting "space use data" in the main lagoon by the dolphins. The space use data are collected during DCP eco-tours and our field courses with college students. Our grid (thank you Melissa for the more accurate division of the main lagoon) is much more "user-friendly." The female dolphins are doing well on their create testing – i.e., we ask them to do "something new" in the session … and not repeat behaviors. It is exciting to see what they come up with and we definitely can see the dolphins thinking about what to do!
I (Kathleen) had two data collection sessions this morning – one with all dolphins in the main lagoon and then a second one after the trainers arrived with 12 of the dolphins in the main lagoon (the others were doing various training sessions in the back areas). It was the mom/calf pairs and a few subadult and adult female dolphins. Tank, Sandy, and Buzz hung out with each other for a while and circle swam Kathleen several times. Maury must have been giving Rocky a "time out" because he was not allowed to leave her side! Sandy even wagged her tongue at Kathleen and Tank (pictured on front)!
And, at one point, Tilly swam ventral up with Rocky and Sandy next to her, also swimming belly up!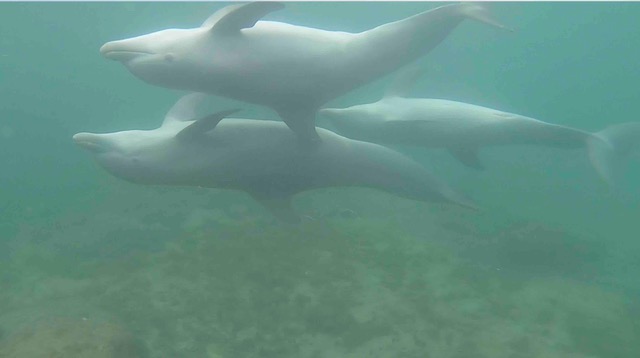 Buzz was investigating Kathleen's fins and the MVA and seemed to be trying to figure out what the green thing (MVA) was! Near the end of this session, Alita, Bailey, Tilly, and Elli all swam by me as a group.
Bill and Ron did a morning dive and, on their way to the dock, the skies opened and the threatening thunderstorm descended upon us! The rain was heavy but not long-lived: after about an hour, most of the rain squall had passed us by. Enough for us all to get a bit wet but not horrible in a warm climate.
Tomorrow is our last morning for MVA data collection. We will also collect a few more create sessions. And, likely also have another kayak adventure or two.
Until then,
Cheers
The SSRB 2021 Ecotour group!