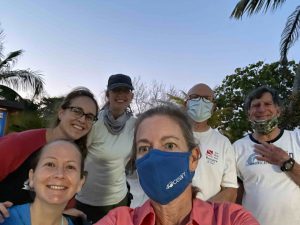 DCP's first ecotour group since the COVID-19 pandemic derailed life as we all know it returned to Roatan and Anthony's Key Resort today. (insert sigh of relief here!)
We traveled from California (Bill), Texas (Melissa, Rachel, Heather), Missouri (Ron), and Florida (me) … and even though travel was long and mostly normal, it was still a travel day! And we were all glad to return to AKR.
It was a bit windy this afternoon and early evening, but the sun was shining and the sea calm. And Heather and I went over the Bailey's to greet the dolphins. They were pre-occupied with an encounter program (Ronnie and Ritchie were doing an encounter!), but it was still delightful to see them. We chatted with Teri and Eldon and Denry, Jason, Cain, Zach, and Meredith. Rona and Rocky are growing fast!
We will begin a first data collection session at 7 AM tomorrow (that's late since the sun rises at 5:20 AM!). I am looking forward to making observations and collecting data. I still have to finish connecting the hydrophones to the MVA and charging the camera batteries. So, until tomorrow, have a delightful evening!
Oh yes! Our group decided on our moniker for the week and the photo reflects all of us on our way to dinner tonight.
The Sexy Sextuplet Roatan or Bust 2021 ecotour!
(aka: SSRB 2021)