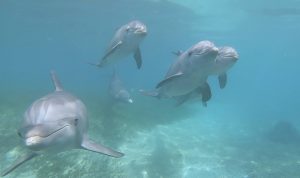 This has been a very productive week here at Anthony's Key Resort (AKR) and The Roatan Institute for Marine Sciences (RIMS) for me and DCP. With Ron's assistance, I was able to collect about 6.5 hours of video data with the MVA and GoPro cameras. (I'll be busy for a few months logging these clips!) The weather mostly held for us – the underwater visibility was great and the current strength was variable (I earned my breakfast most mornings!). It was wonderful (invigorating and reviving) to see the dolphins at Bailey's Key but also to touch base with the people at AKR and RIMS. And, to know that folks are not just surviving the global pandemic but doing well. The safety protocols in place are focused on making sure all visitors and staff remain healthy and safe – from maintained social distancing and mask wearing to numerous hand sanitizer stations (and more).
I look forward to returning to Roatan this spring with groups and to resuming our research and education programs to share with students and eco-tour participants the wonders of our natural world, especially from the underwater perspective.
Until then,
Kathleen & Ron
P.S. this blog's cover photo was from the early morning session yesterday … a great way to remember this week here at AKR/RIMS!