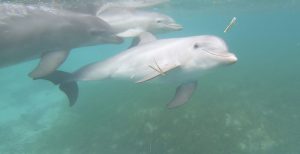 Our last day of data collection went well, with the exception that the stronger current was back. Thus, I got a good workout with each underwater session! The day was full of play – moms with their calves, young dolphins (both male and female) were wrestling again, and there was seaweed and seagrass play, too! I was invited a few times to play with seagrass, and it was tempting, but I remained the observer to collect the video. I.e., I try to remain an impartial observer when recording video data.
Ron's dive in the afternoon was to Pete's Place – lots of fish and lots of sponges. It was walls, canyons, channels – a mixed reef topography.
The afternoon was spent cleaning and drying gear, packing the MVA and other gear in prep for tomorrow's travel day. It's been a week – but it went by swiftly and feels shorter than the 7 days! I'll have a summary tomorrow before travel.
Cheers
Kathleen & Ron
P.S. oops … sorry not to have posted this blog late yesterday!