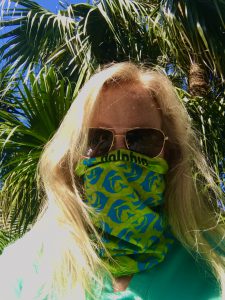 All Adopt-A-Wild-Dolphin Print Kit, Patron Adoption Kit (print or electronic) or T-Shirt orders received between 23 Nov – 1 Dec will get a choice of one free DCP Hoo-rag or 10 randomly selected DCP trading cards. Once DCP receives your Adoption or Shirt order, we'll reach out via email (check your spam folder!) to find out your selection.
*Note: Bonus only applies to Print standard adoption kits (not electronic), but does apply to both print and electronic versions of Patron kits. Shirts must be ordered directly through the DCP website (CafePress orders are appreciated, but do not qualify for this offer). Bonus offer good only on orders received through 1 December 2020.
That's not all!
Special #2: For just $49, including shipping*, receive a Adopt-A-Wild-Dolphin print kit and DCP-Edition Dolphin Wanderer Bracelet. Select dolphins only.
Special #3: Rarely offered for sale via the website, we're excited to have reusable DCP water bottles for sale. These 16 oz, vacuum insulated bottles are just $29 including shipping*!
*Specials #2 & #3 are available until 5 January, 2021. While supplies last.