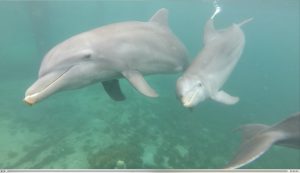 A new international Master Program on Large Marine Vertebrates is now open from the University of Bologna.
You can find a short description of the program below and the link to the webpage, where you can find more details. DCP's Kathleen Dudzinski is one of the instructors who will focus on behavior and lead the field course portion of the program (see below).

This first level Master in Large Marine Vertebrate Sciences is an International program, held in English, specifically designed to give professionals and young graduates theoretical knowledge on a large variety of aspects of large marine vertebrate management and conservation, starting from the basics (physiology, biology, anatomy, etc.) and including more specific topics, like welfare, diseases and pathology, legislation concerning marine vertebrates, monitoring, management in the wild and under human care, as well as communication and scientific writing skills.
The special strength of this Master Course is its practical approach, allowing the participants to get in contact with/to immerse into the current work of different entities involved in the study and management of large marine vertebrates, both in the wild and under human care, with a 20 CFU (500 hours) internship and with a mandatory, immersive field research trip with the Dolphin Communication Project (DCP) to the DCP Director's research field site on Roatan, Honduras.
For more information on this 18-month program (including pre-requisites and cost), please visit the Master description page here and/or the Master web page here.