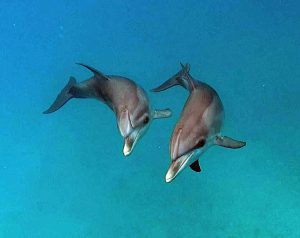 By late June, I would have hoped for close to 30 days on the water, searching for the Atlantic spotted and bottlenose dolphins off Bimini. Nicole and I would have led two field courses, an ecotour and interacted with other tourists, all eager to experience the dolphins while DCP collected data. But. Well. COVID-19.
As you may have seen, DCP did our best to regroup and retool – our shirts and Hoo-rags are available online, our two webinar series are available on YouTube, our Kids Science Activities are now available as free downloads, our interns are doing data analysis remotely and we have two new remote volunteers/interns. We've been social distancing, but we haven't stopped our mission!
And, in Bimini, I've been able to get on the water a few times, which is, of course, better than zero times. And what did these three trips yield? A busy, mixed age group with several moms & calves, a day with no dolphin sightings at all and a day with a group of 12, active, mating spotteds. A little bit of almost everything! I'm happy to remote that we have seen:
Tina (#14) was still with her older calf, Kiwi (#121). Kiwi was getting lots of freedom to zip over to the boat and play with other youngsters.
Romeo (#10), Swoosh (#36) and Leslie (#80) were looking good (could Leslie be pregnant?!). With no calves in tow, they were actively pursued by Split Jaw (#22) and Tim (#69). I think Buster (#04) and Prince William (#64) were also there, but I'll have to check the video to confirm. And, Paul (#99) was right there with the older males, but took more breaks for bowriding too. You can learn more about these individual dolphins here.
I'm hopeful more opportunities to search will come up, but of course, health and safety of the Bimini community come first. We're continuing to keep an eye on our 9 – 14 August 2020 ecotour; if you are interested in joining, give us a shout at info[at]dcpmail[dot]org.
Until next time,
Kel
PS: Join us remotely on Tuesday 30 June at 7:30 p.m. EDT for the premiere of our 20th Anniversary film! Zoom: https://us02web.zoom.us/j/85158792285