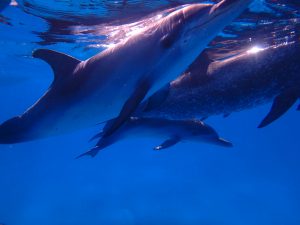 UPDATE: Thank you to everyone who supported DCP & shared the dolphin joy through our "Pay It Forward" campaign. We paused this program on 9 September 2020 so we can focus on our fall webinar series. Your support ensure these webinars happen and are free for everyone! Thanks again!
——————————-
Want to say thank you to an essential worker? Send a pick-me-up to someone feeling down? For every $15* you spend supporting DCP, we'll send an Adopt-A-Wild-Dolphin "e-kit" to someone of your choosing! Sound cool? Keep reading for more details:
As many of you know, 2020 is the 20-year anniversary for DCP. During these difficult times, there are many things for which we are grateful, and we wouldn't have reached 20 years without your support.
As a result of the COVID-19 pandemic, our spring field programs have been postponed until 2021. After some time to feel that frustration, we regrouped and are thrilled to have three brand new STEAM online programs: Kids Science Activities (downloadable for free) plus two webinar series (free to join live or watch recordings). Every day, we look forward to getting back into the field. Every day, we recount the things for which we are so grateful. And every day, we wish you all safety and health.
The reality is that the postponement of our field programs has dealt DCP a significant financial blow. As such, we're pleased to offer DCP shirts for sale once again and "Hoo-rag" bandanas for the first time. We are grateful for your support and want to pay that forward. So, with every purchase of $15 or more, made directly through the DCP website (qualifying items listed below), we will send an electronic dolphin adoption to an essential worker or person who has been financially or emotionally negatively impacted by the pandemic. The coolest part? With your purchase,* you can choose someone in your life to receive this adoption e-kit gift from DCP. And yes! Spend $30, we'll donate 2 e-kits. $45? 3! No limit!
Qualifying purchases include:
DCP Shirts
DCP "Hoo-rags"
Adopt-A-Wild-Dolphin (print or e-kits)
Donation ($15+)
Membership (Any level!)