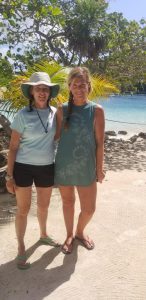 Our last day began bright and sunny! We had a good session with the dolphins though they were more into their own thing today. There was much less surface activity but there was some neat underwater action. Elli spent quite a bit of time playing with a small bit of seaweed – mouthing it and hiding it from other dolphins. The "boys" (Lenca, Champ, Tank & Stan) and Dory hogged camera time this morning! They were not as interested in Kathleen's fins but seemed to be interacting in front of the camera and pushing each other out of view! There was a lot of very "up close" footage this morning.
We also were able to conduct two create data collection sessions – one in the morning and one in the afternoon. These create sessions were with the adult female dolphins – Gracie, Maury, Bailey, Tilly, Poli, and Calli. They vary in the degree of creativity that they exhibit but all seemed to have a grand time trying something new! Thank you to Meredith for taking the photo of Kathleen & Nicole at Baileys Key!
Nicole also got in a snorkel session on the west side of Baileys. She was most impressed by the Christmas tree worms and trumpet fish. There was quite a variety of fish along the reef.
We had a really successful week with eight MVA data collection sessions that yielded about 5.5 hours of video data collected. We also watched some neat interactions between the dolphins and the weather just kept getting better and better!
Until next visit …
Cheers
Kathleen & Nicole