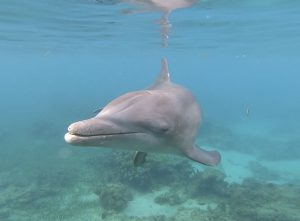 We woke to a calmed sea and a quiet morning. The early morning data collection session included lots of surface activity – tail slaps and rolling socializing by several dolphins. The underwater visibility was spectacular! The dolphins were quite social and early in the session, it looked like 4 or 5 dolphins were doing something odd under a platform but it turned out they had a new game! A couple of them exhaled bubbles under the platform and the others moved them around under it! They seemed to have lots of fun!
Kathleen was able to get several minutes of video of French and Champ today … they've been mostly into their own thing earlier this week. And, we watched Dory throw seaweed into the air repeatedly! She seemed to be having a great time!
After this session, our quick breakfast was then followed by another trip over to Baileys Key. Nicole filmed from topside while Kathleen filmed from in the water as Teri did a few innovative sessions with Gracie, Maury and Tilly. They were asked to do anything they wanted but no two things in a row! This type of session allows us to examine dolphin creativity.
Our afternoon was spent with Nicole learning about dolphin cognition and both of us sharing the video from the morning with a few other resort guests. Today was another dolphin-filled day!
Tomorrow is the last MVA data recording session for this week. We'll start bright and early again!
Until then,
Kathleen & Nicole