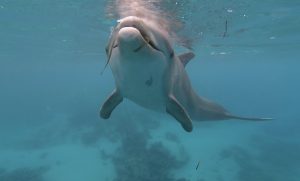 Another good session for data collection was had this morning. It was overcast with a light rain, but the underwater visibility was good and facilitated about 30 min of video data. We watch the video collected each day and it offers a different perspective to collecting the data from above water during the sessions. You can see so much more from the underwater video. It's like a whole other world watching how the dolphins interact and sometimes include Kathleen in their games. Of course, it was also difficult not to play with Dory and her seaweed offerings! Of course, Ronnie tried to get Kathleen to play while she was recording (pictured)!
The late morning saw us having a discussion about the MVA and Nicole learned all about the housing and the technicalities for why the hydrophones are spaced as they are and how the camera sets inside the tube. After the MVA, Kathleen shared with Nicole a bit about DCP and our history here at AKR and RIMS and some additional details about dolphin communication. Lunch followed the discussion and then we had a couple hour break before preparing for the night snorkel. It was Nicole's first night snorkel! There were three other guests plus Kino (dive master) on our snorkel. And it was awesome! We saw several octopus, a couple of porcupine fish, a lionfish, an eel and large puffer fish! It was enough to have us not ponder how chilly the water felt! (Ok, it's not really cold but …)
Dinner followed the snorkel and we wrapped dinner with the best ever cheesecake! Our evening wrapped with a viewing of today's dolphin data video and watching how Tank and Stan would not leave Kathleen's fins alone!
That about covers today! We'll do data collection with the MVA and then Nicole has her dolphin encounter and swim tomorrow. We might also be able to collect data on a study with Teri.
Until tomorrow …
Cheers
Kathleen & Nicole