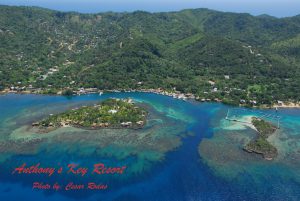 We, and by we, I mean Nicole and me, are in a room on Anthony's Key where the waves and wind are pounding and liquid is falling from the sky! We are settled in and hoping the rain stops for tomorrow's data collection session. Sadly, the student group had to postpone their week field course with DCP to Roatan for this week. This decision was made yesterday afternoon. Nicole was already on Roatan, so I flew down to meet her and we plan to collect data on dolphin behavior and other activities each day!
We have spent much of the afternoon unpacking and chatting about dolphins and dolphin behavior and the facility and walking around Anthony's Key. Our dinner was delicious and we thought nothing of the stiff breeze around the dining room until Humberto (water taximan) let several of us know about the minor water spout we missed. It was within the reef sort of between the main dock of AKR and Anthony's Key! He had his rain gear on and so stayed dry! Mother Nature is sure to excite us this week … if she'd give us some calm seas, we'll be happy!
We hope that we are not rained out tomorrow … cross your fingers!
Cheers
Kathleen & Nicole