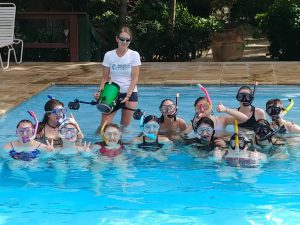 Our first day was a good one with everyone up and at the taxi dock before 6:30 AM for our first data collection session! The dolphins were playful and social – mostly with each other, which was a good thing! Champ and Stan occasionally sought out Kathleen's fins to play and one or two dolphins tried to entice one or more of us to play the seaweed game but we resisted.
Breakfast (and lunch and dinner for that matter) were as delicious as Justin promised in our various pre-trip meetings. The rest of the morning was spent in two classrooms – one indoor that is lined with all types of displays presenting the fish and coral and other creatures that call Roatan and her surrounding waters home, and one outdoor. The first outdoor classroom had picnic tables and we learned about the MVA – not as heavy as we all expected (see our group photo with the MVA and Kathleen as today's blog picture). After lunch we got a chance to try our hand at swimming with the MVA. Our subjects were each other and we were in the pool so underwater visibility was not an issue! The MVA became less bulky to us in the water but most of us were surprised at how difficult it was to see the camera screen for filming.
The afternoon included a snorkel at Bailey's Key to see the corals and fish adjacent to the dolphin home and then we were treated to a talk on corals from Jennifer and then a fish ID presentation by Peter. We learned LOTS!
The evening wrapped up with watching the video Kathleen recorded this morning and then learning a bit about the activity levels we will be recording for the space use study. We are gungho for tomorrow morning!
Cheers
Kathleen and the URI team!