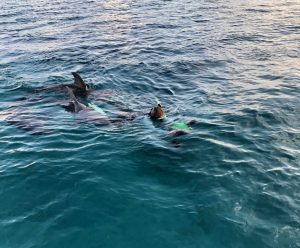 I have a dedicated team of participants with me this week – Manon, Rachel, Ron, Bill, Madison, Jeff, and John all joined me at 6:30 for the AM data collection session. The water was ok for clarity but the current was strong! The dolphins were curious and playful and the cameras persnickety!
Yes, technology was a tad bit of an issue. For reasons unknown, the GoPro decided not to record any of the session, though it had the red camera thingee suggesting it was recording. (maybe it took the day off!) And, for the MVA footage – the audio is great but the video is dark. Somehow, I accidentally pushed the button such that the f-stop was locked open. Sigh.
We sorted out the technology issues and spent time in the afternoon collecting the space use data when an encounter and a swim were ongoing. The dolphins spent some time in the area adjacent to the arrival dock but also swam among the swimmers and did some wave/swell surfing. It rained off and on during the day. But, it was a good day.
Tomorrow is our last full day.
Cheers
Kathleen, Manon, Rachel, Ron, Bill, Madison, Jeff, and John
P.S. Happy Birthday to Dixie, the mini seabeagle, who turns 8 years old today (9 Jan 2020)!